Dr Po Yang
BSc (Hons), MSc, PhD
Department of Computer Science
Senior Lecturer in Large Scale Data Fusion
General Engineering Admissions Tutor
Member of the Organisations, Information and Knowledge (OAK) research group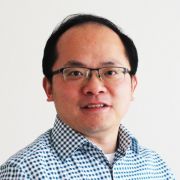 Profile

Dr Po Yang is a Senior Lecturer in Large Scale Data Fusion in the Department of Computer Science at the University of Sheffield. He graduated with a BSc (Hons) in Computer Science from Wuhan University in China in 2004, before being awarded his MSc in Computer Science from the University of Bristol in 2006. In 2010 he graduated with a PhD in Electronic Engineering from the University of Staffordshire.

From February 2015 to July 2019, he was a Senior Lecturer in Computer Science at Liverpool John Moores University. He worked as a Post-doc Research Fellow in Computer Science at the University of Bedfordshire from January 2012 to January 2015. Previously, he has also held the positions of Research Associate in Computer Science at the University of Teeside from September 2008 to February 2010, a Research Assistant in image processing at the University of Salford from March 2010 to December 2011.
Since 2006 he has generated over 90 international journal and conference papers in the fields of Pervasive Healthcare, Image Processing, Parallel Computing and RFID related internet of things (IoT) applications.

He serves as an Associate Editor in IEEE Journal of Translational Engineering in Health and Medicine and IEEE Access.

He has over 12 years full time research experience in computing areas (recent three years working on Pervasive Healthcare), which includes the key participation and local leadership of 6 EU funded projects CALLAS (RA in Affective Computing at Teeside University), IMPACT (RA in Image Processing at Salford University), GPSME, DRINVENTOR, MHA and CHIC (RF in Computer Science at Bedfordshire University) and 3 EPSRC/TSB funded projects.
Research interests

Dr Po Yang's research interests include: Pervasive Computing, Healthcare Informatics, Data Analytics and Internet of Things (IoT)
Publications

Books

Journal articles

Chapters

Conference proceedings papers

Posters

Preprints
Grants

Current Grants

AI-AMMS: AI coupled with Aerial iMaging and Mobile Sensing, RCUK, 09/2022 - 09/2033, £24,954, ac PI
Integrating Visual and Context Information into a Mobile Intelligence Solution for Sustainable Management of Wheat Pests and Soil Health, Innovate UK, 10/2021 - 09/2022, £52,377, as PI
Farmer-centred Interoperable Mobile-Cloud System: Integrating Data from Farming Activities and Environmental Information for Sustainable Fertiliser Management, Innovate UK, 03/2021 - 11/2023, £165,681, as PI
Dynamic Active Learning for Objective Qualification of Physical Activity Behaviour in Free-living Environments - Studentship, EPSRC/Industrial, 10/2021 - 09/2025, £112,892, as PI

Previous Grants

Investigating AI-enabled Mobility Network Models for Explaining Economic Inequities and Forecasting Recovery, Research England, 02/2022 - 07/2022, £24,900, as PI
Isolation-Care Tele-Robotic System and its Efficient Utilization for the Prevention of Nosocomial Infection of the COVID-19, Worldwide Universities Network, 06/2020 - 06/2021, £3,333, as PI
Clever-dREAMS: Using artificial intelligence to enhance the diagnosis of rare skeletal dysplasias in children, MRC, 12/2019 - 04/2021, £74,668, as Co-PI