Healthcare Technologies
This theme is primarily supported by our Organisations, Information and Knowledge (OAK) and Complex Systems Modelling (CSM) groups, with input from the Machine Learning group.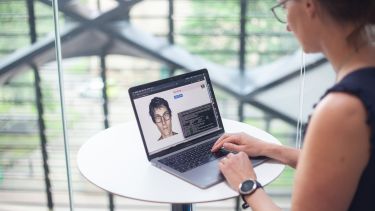 Research in this theme is driven by the complexity of the clinical setting, aligned with challenges in harnessing technology to deliver healthcare more effectively. 
Research is further supported by a network of clinical and interdisciplinary collaborations provided by:
Chatbots could be used to deliver psychotherapy during Covid-19 and beyond
The study, led by Dr Matthew Bennion from the University's Department of Computer Science, argues that chatbots are an under-used resource and could be used to help more people talk through their issues.
Department is part of a new EU consortium researching solutions for speech problems
The Department of Computer Science is part of a European-wide project which aims to transform the well-being of people with debilitating speech problems.
Researchers develop Artificial Intelligence to prevent new waves of COVID-19
A University of Sheffield research student has helped develop Artificial Intelligence (AI) to predict COVID-19 from standard blood tests two weeks earlier than current, existing tests.
Speech and language technology in healthcare
Researchers in the Speech and Hearing group are investigating ways of using audio and speech technology to improve the physical and mental wellbeing of people.
Computational models in healthcare
Professor Richard Clayton has had a long running interest in developing computational models to investigate the mechanisms that initiate and sustain dangerous disorders of heart rhythm in the human heart, and this has been funded through grants and fellowships from the British Heart Foundation.
Professor Clayton is currently working on a UKRI funded project  which is looking to address: Uncertainty Quantification in Prospective and Predictive Patient Specific Cardiac Models