Dr Ali Khurram
BDS, MSc., PhD., MFDS RCS (Edinburgh), CiLT, FHEA, FRC Path.
School of Clinical Dentistry
Senior Clinical Lecturer
Honorary Consultant Pathologist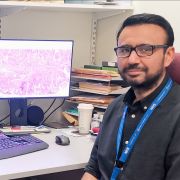 Profile

I was appointed as a Senior Clinical Lecturer/Honorary Consultant in Oral and Maxillofacial Pathology in September 2016. Prior to that, I worked as a NIHR Academic Clinical Lecturer/ Honorary Specialist Registrar (Oral and Maxillofacial Pathology) at the University of Sheffield from August 2011 to 2015. I undertook my PhD at Sheffield Dental School as well successfully completing it in March 2008. I worked as a Senior House Officer in Oral Medicine/Pathology at Cardiff Dental Hospital (2008) and Charles Clifford Dental Hospital, Sheffield (2008-09) in addition to two years with the Oral and Maxillofacial Surgery Department in Sheffield (2009-11). Being a clinical academic, I have a strong interest in research and teaching (undergraduate, postgraduate, clinical) as well as diagnostic oral and head and neck pathology.
Research interests

One of my main interests is the application of Artificial Intelligence and Deep Learning to Pathology with numerous recent publications. At present, I am involved in a number of national and international collaborative projects exploring 'novel digital biomarkers' in cancers and pre-cancers. I am the PI on a Project Grant (WORTH £405k) by Cancer Research UK which aims to use AI for prognosis prediction in oral pre-cancer. Recently, I have been awarded £247K as part of an International Collaborative Research Grant from The British Council. This project involves working alongside collaborators in Khyber Medical University, Pakistan with matched local funding to explore genetic markers of diagnosis and prognosis in oral cancers.

My main clinical research interest is studying metastasis and extracapsular spread in oral cancer or oral squamous cell carcinoma (OSCC) as it reduces the 5-year patient survival by 80-85%. In particular, I am interested in the role of tumour microenvironment (TME), stroma and epithelial mesenchymal transition in cancer progression, bone invasion, metastasis and extranodal extension. I am also interested in Salivary Gland tumour diagnosis and pathobiology and identification/testing of biomarkers useful in diagnosis and prognosis prediction.

Another research interest of mine is in the interaction of chemokine receptors and their ligands in inflammatory and neoplastic disease. Our previous work showed expression of the XCR1 receptor outside the immune system for the first time where it facilitated cancer cell signalling, migration, invasion, proliferation in addition to stimulating adhesion to ECM components and release of Matrix Metalloproteinases.
Publications

Journal articles

Chapters
Research group

Head and Founder of NEOPATH Research Group

CURRENT GROUP MEMBERS

Hanya Mahmood (NIHR funded Doctoral Training Fellow) 
Ibrahim Alsanie (PhD student- funded by King Saud University, Saudi Arabia) 
Neda Azarmehr (Postdoctoral Research Fellow- funded by CR UK) 
Paul Hankinson (NIHR Academic Clinical Fellow in Oral and Maxillofacial Pathology) 
Mariem Elsharief and Fatima Elalawy (co-supervisor) 
Finished PhD students (Areeg Elmusrati, Alice Pilborough, Amir Zaki Abdullah Zubir)
Teaching activities

Module Lead (MMedSci) - ORP611- Advanced Oral Histopathology
Professional activities

Honorary Secretary and Webmaster- British Society for Oral and Maxillofacial Pathology (BSOMP) 
Webmaster and Digital Advisor- Pathological Society of Great Britain and Ireland (PathSoc) 
Webmaster and Member Organising Committee- International Association of Oral & Maxillofacial Pathologists (IAOP), 2021 Meeting 
Member of Educational Committee- European Society of Integrated and Digital Pathology (ESDIP) 
Member- British Association of Head and Neck Oncologists (BAHNO) 
Member- European Society of Pathology (ESP)

Clinical

I am the Clinical Lead for the diagnostic Oral and Maxillofacial Pathology Service provided by the Unit. This includes macroscopic description and reporting of routine biopsies and major head and neck cancer resection cases alongside other colleagues. My role as the lead involves working closely with the histopathology lab team, maintaining and updating SOPs, undertaking and evaluation relevant clinical audits and quality improvement activities as well as risk assessment and reporting. The department works closely with the Maxillofacial Surgery department and cases are discussed at weekly Regional Multidisciplinary Head and Neck cancer Meetings. I am also involved in training of Dental Core Trainees (DCTs) and Specialist Registrars (StRs). Clinical Lead- Diagnostic Oral and Maxillofacial Pathology Service, Sheffield.

I am passionate about engaging and involving patients in research as well raising awareness about Head and Neck Cancers and am a Patron for The Swallows Head and Neck Cancer Charity. Recently I organised and ran a 12 hour online Virtuathon for Mouth Cancer Awareness in collaboration with the Oral Health Foundation to raise awareness and funds for Mouth Cancer Action Month.