Dutch Studies SURE project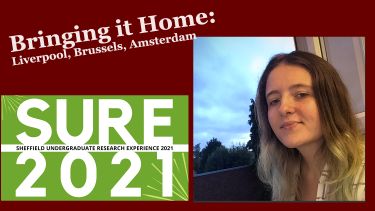 Catherine Newell (BAMLC Dutch, French, German) was awarded a SURE research scholarship to devote six weeks to a research project in the summer of 2021. Here she shares what she will do and what prompted her interest.
"Until recently there has been little acknowledgement of the significant role Britain, the Netherlands and Belgium played in the enslavement of African people. These uncomfortable pages of history are often hidden from the history curriculum.
Recently, countries across Europe have started to pay more attention to representing the legacy of slavery in their museums. No longer are the stories in which European dominance collided with black people being suppressed. In Britain the International Slavery Museum (ISM) in Liverpool is being expanded; in Belgium the Royal Museum for Central Africa (RMCA) in Tervuren, was fundamentally redeveloped in 2018; and the first exhibition on the Dutch involvement with slavery and the slave trade opens in the Rijksmuseum in Amsterdam on 18 May 2021. It appears that the mood is shifting. 
I will investigate how the national stories of Britain, Belgium and the Netherlands are being told in museums or exhibitions about the nations' colonial past.  

Catherine Newell

BA Modern Languages and Cultures 
We cover quite a lot of Low Countries colonial history and in Britain too the debates about how Britain should represent its imperial history are ongoing. I find that very interesting and that is where SURE came in: together with my supervisors I will investigate how the national story of Britain, Belgium and the Netherlands is being told in museums or exhibitions about the nations' colonial past.  
For this project, I will be visiting (physically or virtually) three museums in Liverpool, Brussels and Amsterdam. I will compare the narrative these museums present around slavery: I will analyse the websites, catalogues, and the exhibition choices these museums make; analyse the similarities and differences in how slavery is presented; and focus on a changing narrative of empire. Do these stories look for a new connection with today's multiculturalism: (how) do these nations bring this part of their history 'home'? 
I hope to present my findings in a variety of ways including a podcast and a creative written response to the exhibitions."
Newell's SURE project is part of the ongoing engagement in Dutch Studies with the colonial legacy of the Low Countries, notably through our Second Year module Imagine the Past; Remember the Future and the research areas of Sheffield teaching and research staff.
Catherine Newell's SURE project will be supervised by Henriette Louwerse (SLC), Filip De Ceuster (SLC) and Duco van Oostrum (English). The SURE project is a Sheffield University scheme to offer undergraduate students the opportunity to develop their skills and gain early experience with academic research. 
A world top-100 university
We're a world top-100 university renowned for the excellence, impact and distinctiveness of our research-led learning and teaching.