My foundation year gave me a massive head start

Arthur
EEE undergraduate student
MEng Digital Electronics (now Electronics and Computer Engineering)
2019
Arthur shares how taking a Science and Engineering Foundation Year allowed him to develop his skills and knowledge to ensure he was in the best position to start his degree in Electronic and Electrical Engineering.
My original application to the University of Sheffield was turned down but I was offered a place on the Science and Engineering Foundation Year. Taking part in the foundation year ensured that I was in the same position as any other students going straight into the first year. The foundation year definitely proved worthwhile and gave me a massive head start. The foundation year visits the majority of the Diamond labs and teaches loads of 'soft' skills that really come in handy when moving into the first year.
As a city, Sheffield has something for everyone. For engineers, Sheffield still encompasses a large number of engineering firms including Siemens and Sheffield Forgemasters.
I'm involved with the Sheffield University Walking Club and the EEE Society. The walking club organises walks around Sheffield and the Peak District most weekends and the EEE Society organises events and socials based around electrical and electronic engineering.
Joining a society really helps you to get out there, meet new people and learn new skills. A society like the EEE Society enables you to explore areas of engineering that you might not have the opportunity to on your course. Everyone will graduate with the same degree so having attended societies and taken part in other extra-curricular activities can give you an extra edge on other applicants when applying for jobs in the future.
As an A-level student considering engineering, I think it's important to understand that a degree in engineering won't just enable a career in engineering. It will open doors in many different industries including finance, management, technical-journalism and IT.
Top 10 in the UK
We're in the top 10 UK Electronic and Electrical Engineering Departments (QS World University Rankings 2021).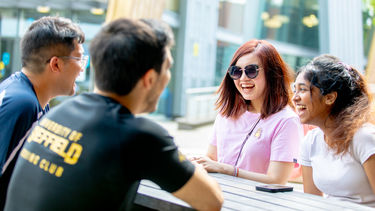 International Merit Scholarships
We offer a generous package of financial support for international students including 75 undergraduate scholarships worth £10,000 towards the annual tuition fee and 125 postgraduate taught scholarships worth £5,000 towards the tuition fee. Applications are now open for existing offer holders.