Dr Elisa M Sala
Department of Electronic and Electrical Engineering
Research Fellow
Semiconductor Materials and Devices Research Group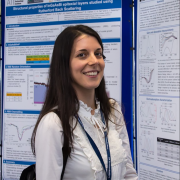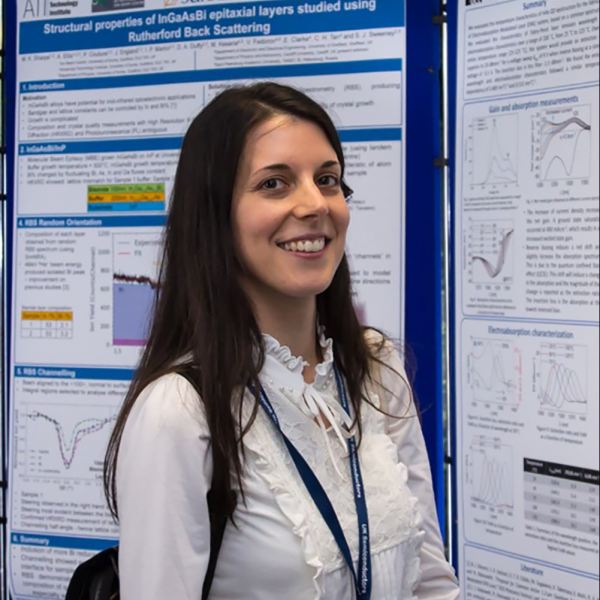 Qualifications

I graduated in Solid State Physics at the University of Milano-Bicocca (Italy) in 2012.  

In 2018 I earned my PhD in Solid State Physics at the Technical University of Berlin (Germany), under the supervision of Prof. D. Bimberg, with a thesis entitled "Growth and characterization of antimony-based quantum dots in GaP matrix for nanomemories".
Research interests

In year 2012 she carried out experimental training on MBE (Molecular Beam Epitaxy) growth and characterization of III-V semiconductor nanostructures at L-NESS, Laboratory for Nanostructure Epitaxy and Spintronics on Silicon (Como, Italy), as part of her master's degree.

In 2013 she was enrolled in a PhD program within the project HOFUS (Hoch-Funktionale-Speicher – high functional memory architecture) in Bimberg's group, funded by the German Ministry for Education and Research (BMBF), aiming to demonstrate the feasibility of a quantum-dot-based memory as a novel memory architecture (also named QD-Flash).

During her PhD research studies, she investigated the MOVPE (Metal Organic Vapor Phase Epitaxy) growth, the optical and morphological characterization of a novel type of III-V semiconductor quantum dots, and their use as storage unit for the QD-Flash.

Her investigations demonstrated that the QD capture cross-section can be engineered by a fine-tuning of the growth parameters, which led to the storage record of 1 hour at room temperature for MOVPE-grown QDs so far, thus paving the way for an ultimate QD-based nanomemory.

In July 2018 she joined the EPSRC National Epitaxy Facility of the University of Sheffield as Research Associate in MOVPE.

Here she is dealing with the epitaxy and the characterization of various III-V semiconductor materials, in particular arsenides and phosphides, with a special focus on quantum dots as building blocks for novel optoelectronic devices.
Publications

Journal articles

Preprints