Henderson's Relish Former Factory Site Roof Tiles Project
A collaborative charitable project between Henderson's Relish, APG Works, and the departments of Architecture and Engineering to support scholarships for students seeking sanctuary.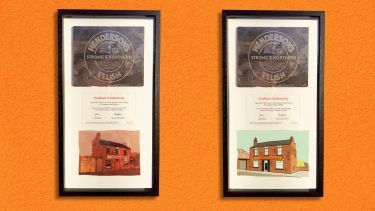 Off
You can own a piece of Sheffield history and help support students seeking sanctuary in Sheffield, including those from Ukraine. 
The presentation frames cost £125.  There are two options for the student illustration within the frame - which we've entitled 'Modern' or 'Traditional' to distinguish between the two.  The choice of artwork is shown below.
Update September 2023
The frames are being sold on a first come first served basis from the Print Reception Desk in our Students' Union building - open Monday to Friday 9am to 4.45pm.
We are hoping to produce about 80 more, before the end of this year - but in order to do that we need some volunteers to come and help us clean the tiles (they are really dirty but also really fragile due to their age).  If you'd be willing to get involved with this to support our charity endeavour please email r.e.parnham@sheffield.ac.uk.
---
Choice of artwork
Modern
Traditional
---
Project Background
The University is currently working to preserve the former Henderson's Relish Factory site and needs to replace the roof tiles as part of it's work.  This has given us the rare opportunity to use the old ones, that have been on the building for many years to put together the presentation frame with a cut and engraved tile, a certificate of authenticity and a student illustration of 'Henderson's House'
This charity endeavour is labour intensive and is only made possible by the generous support from a wide group of people.  The process is explained below.
Stage 1 - Volunteers painstakingly clean the fragile tiles which have decades of grime to be got rid of.  Care has to be taken not to use any cleaning products or implements that would be too abrasive or scratch the slates. Would you be willing to volunteer your time to help with the cleaning?  If so please contact r.e.parnham@sheffield.ac.uk
Stage 2 - Next the tiles are carefully transported to The Diamond where volunteers from Engineering's iForge community cut the tiles to size using the water jet machine
Stage 3 - The tiles are again carefully transported this time to the Architecture workshops in North Campus where the technician team engrave the Henderson's Relish logo - a significantly time consuming process
Stage 4 - Collection and delivery of the tiles to APG Works to complete the framing process
Stage 5 - The frames are collected by the University ready for selling via the Print and Creative Service reception desk at the Students' Union building.  PCS kindly manage the transaction 
If you have any questions please email r.e.parnham@sheffield.ac.uk.