Henderson's Relish Former Factory Site Roof Tiles Project
A collaborative charitable project between Henderson's Relish, APG Works and the departments of Architecture and Engineering to support scholarships for students seeking sanctuary.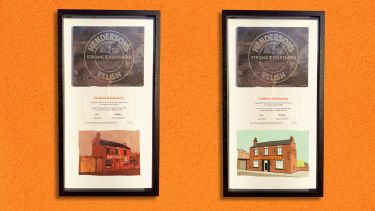 From early 2023 you can own a piece of Sheffield history and help support students seeking sanctuary in Sheffield, including those from Ukraine. 
The University is currently working to preserve the former Henderson's Relish Factory site and needs to replace the roof tiles as part of it's work.  This has given us the rare opportunity to use the old ones, that have been on the building for many years to put together the presentation frame with a cut and engraved tile, a certificate of authenticity and a student illustration of 'Henderson's House'
The presentation frames cost £125.  There are two options for the student illustration within the frame - which we've entitled Modern or Traditional to distinguish between the two.  
Modern
Traditional
Further information will be added to this page in early 2023 including the story of the willing volunteers who've helped create the presentation frames from Engineering and Architecture, as well as the external support of the project from Henderson's Relish and APG Works.  In the meantime if you want to be one of the first people to hear about the tiles being available to buy you can provide your contact details via this Google Form