June and July Trees and Grounds Works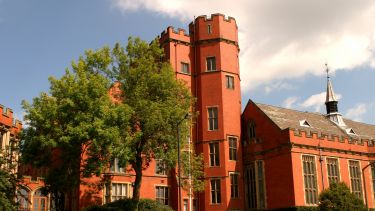 The University carries out a tree survey every year, by independent and expert aboricultural specialists, in order to look after the trees on our property.  We schedule works according to the priority levels recommended in the survey.  
The works detailed below include some trees needing to be felled, which will be replaced at a ratio of 2:1 in accordance with our Tree replacement policy.  The replacements will be added in the tree planting season, as near as possible to the one that was felled.
June
A large sycamore tree located at Goodwin Sports Centre has to be felled for essential works being carried on the building out to prevent an environmental health issue.  This work will be carried out on Monday 12 June.
---
A new glasshouse (greenhouse) is being installed at our Arthur Wills Environmental Centre.  The initial project plan required the felling of 5 trees, one of these being an Ash which had already been identified in our annual tree survey as requiring felling due to a large rotting wound and decay progressing up the length of the stem. 
The other trees were over mature Ash and mature Sycamores.  Upon receiving the aboricultural report the project team revisited the plans and successfully identified how the glasshouse could be repositioned so that the two sycamore trees both categorised as being in fair condition could be saved.  
The two Ash trees will be felled on Wednesday 21 June.  Their condition was categorised as poor. One has a large cavity at base, rotten buttress and extensive coalesced hallowing.  The second shows leggy and sparse regrowth after previous topping.
---
A significant amount of work will be undertaken around the Endcliffe Student Village this month including crown lifts, the removal of deadwood, cut backs and the felling of four trees which have come to the end of life.  On Endcliffe Crescent two elm trees which are dead will be felled to round level and a goat willow with poor vitality and showing large parts of deadwood will be felled to a 4m stem.  The fourth tree is Beech, classified to be in poor health and needing to be felled to a 4m stem.
---
July
During the first week in July our landscape management team were scheduled to undertake some shrub clearance to make way for sustainable planting at University owned properties on Palmerston Road and Claremont Crescent.  However in preparation for the works nesting birds were discovered.  We continue to positively support local biodiversity and wildlife across the whole estate and therefore have delayed until September.
In early July three trees, a mature Plane and two semi-mature Spindles which the survey identified as having leggy and unruly canopies  will receive crown reductions to help ensure their long lasting sustainable vitality.  The trees are located near to the Octagon Centre, Hicks Building and Information Commons.
Our annual Ash dieback survey will be carried out in July.  We expect to be able to publish the report in August.