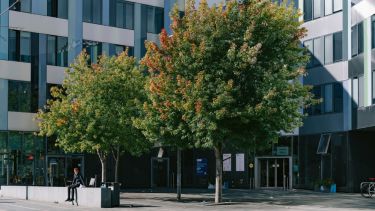 Sheffield Institute of Translational Neuroscience (SiTRAN)
Work to repair the retaining wall between the SITRAN site and Dorset Street Playground is scheduled to start from Wednesday 19 April.
The dismantling of the wall will require low level shrubs and vegetation to be cleared and one holly bush tree to be felled on the University site.   We have to remove the tree in a controlled manner in order to avoid the tree falling in an uncontrolled and thus unsafe manner - which would happen when dismantling the wall.
In order to complete the works three cherry trees also need to be removed from the park.  These will be replaced with 10-12cm girth cherry trees that will be in ameliorated pits, double staked and tied to a support. The park is owned by Sheffield City Council and the removal and replacement of the cherry trees has been agreed with them.
Endcliffe Vale Road
During a recent storm a neighbouring tree (not owned by the University) fell and caused damage to a 16 metre Beech tree on a University owned property on Endcliffe Vale Road.  The extent of the damage requires the removal of the tree.
Annual Tree Inspection Works
Our latest annual tree inspection identified a number of trees requiring work in order to promote their health. A large amount of deadwood will be removed, a good number of crown lifts done alongside any other work needed to support our trees across our extensive campus.  The inspection highlighted a number of trees that need felling due to their condition or impact on other higher value trees. 
Works needed at our Palmerston Road University sites, Brunswick Street and Stanage Halls of Residence within the inspection are happening at the end of April/start of May.  A Cherry tree that is suppressed by another tree will be felled at Stanage.  The arboricultural report noted it as low value and the removal of it would better showcase the fine specimen Hornbeam next to it.
Scheduled for mid May - trees near to Sir Henry Stephenson building on Mappin Street, Jessop West, The Diamond, Broad Lane Building, Sir Robert Hadfield Building and Pam Liversidge Building will receive crown lifts and a minimum amount of cutting them back away from the buildings.  This necessary maintenance work will protect both the trees and the buildings and will be to the benefit of safety and enjoyment of students, staff, visitors and members of the public who frequent these areas.
The felling of trees is always the last resort for the University and in accordance with our policy we will be planting replacement trees at a ratio of 2:1 in the 2023/24 growing season.