The University is investing in infrastructure to ensure resilience and energy security for our world-leading multi-million pound research projects.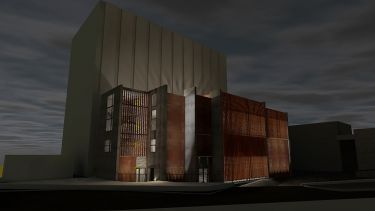 The new Transformer will provide an uninterrupted power supply to research experiments and ensure business continuity to the west of campus.
The energy centre will have the capacity to supply power and heat to a number of key University buildings. The new development will lower the cost of heat and electricity for the University.
The architects, Sheffield-based firm HLM, have created a bold design using materials to complement its setting, including Corten on the exterior walls. It received planning permission in May 2018 and construction began in April 2019 and is due to be completed in April 2020.
Architects: HLM Architects
Timescale: September 2018 - December 2020
---
---
If you cannot find the answer you are looking for here, feel free to contact our Project Manager.
How will I benefit from this project?

All staff and students in the University will benefit as The Transformer ensures a reliable energy supply so our research projects are not interrupted.

How will this project affect people who are living and working nearby?

Residents and people working nearby will hear noise from the construction site. Noisy work such as breaking concrete should be completed in July-September 2019. We hope that noise will be minimised during the construction period by many of the units being put together off-site and brought in.

Once The Transformer is up and running, noise should be minimal. The design has focused heavily on minimising sound made by fans and the plant equipment.

How does the Transformer work?

The Transformer energy centre will consist of a CHP (combined heat and power) system to simultaneously generate heat and electricity for our buildings.

A CHP system works through the supply of high temperature heat from a gas-driven boiler. The high temperature heat drives a gas or steam turbine-powered generator to supply energy and the remaining heat is then used to heat buildings nearby.

Why do we need the Transformer?

Buildings such as the Arts Tower, Firth Court, and the Dainton building are currently supplied with heating by the Veolia District Energy Network. Veolia take unrecyclable residential waste that would otherwise be sent to landfill and burn this to create energy to heat a network of buildings in Sheffield.

Whilst the network is a great low-carbon initiative, it has had many costly and inconvenient faults over recent years. When the heating has failed in the past, we have relied on diesel boilers which are hugely expensive and have a high environmental impact. Disruption to our energy supply can cost significant amounts of money as well as potentially halting our ability to deliver world-leading research.

This new CHP will ensure energy security for our staff, students and research projects and provide a lower-carbon alternative to diesel generators.

Why are we investing in a power system that uses fossil fuel?

Much of our world-leading research, including into climate change adaptation and mitigation, relies on tightly controlled temperatures. The gas CHP will provide us the secure and reliable heating supply that is crucial to protecting our research. Gas is currently the only way to provide the reliable and continuous heating required.

We have procured a highly efficient CHP with very high reliability and low noise emissions. In addition, we have invested heavily in heat network infrastructure. This gives us the connectivity needed to be able to plug other heat sources into the network in future.

The CHP will also produce a small proportion of the University's electricity demand and we have upgraded significant parts of the main electricity ring. The remainder of the electricity demand is supplied through the grid.

Green alternatives such as solar and wind are fantastic energy sources, but only for electricity supply and not for heating. Over coming years, large scale energy storage technology will become available and we will continue to monitor this carefully to ensure we are taking the trajectory required to meet our sustainability targets.

We will continue to work with our academic and student bodies to reduce energy demand on campus and to search for opportunities to move towards clean energy technologies.

How will the Transformer impact on the University's carbon emissions?

The Transformer will help reduce the University's carbon emissions in the result of a major failure of the district energy network.

When the district energy network has failed in the past, expensive diesel boilers have been used as a back-up which are hugely expensive and have a high environmental impact. By using our own CHP and network, this will reduce costs and carbon emissions.

When the project was originally planned, we predicted the carbon saving of the system to be much greater. However the National Grid's power generation has become greener faster than expected from an increase in solar, wind and nuclear, and a reduction in coal. Therefore the expected carbon reduction is less than anticipated.

We will continue to monitor the carbon use of the Transformer and our network and aim to make improvements across the University where possible.

Is there an option to decommission The Transformer if a cleaner option becomes available?

We will continue to review our energy supply and investigate sustainable options whilst ensuring our energy supply.

What will you be doing to make sure heat isn't being wasted?

We will be constantly monitoring heat levels to make sure we minimise the amount of excess heat emitted from the flue. There may be opportunities in the future to reuse any excess heat.

Will the energy centre emit harmful gases?

When selecting the fuel type, consideration has been given to harmful gases. Gas is one of the cleanest options due to lower levels of potentially harmful gases in its emissions compared to other alternatives such as biomass.

Why did you choose this location?

In order to ensure a secure energy and heating supply for our buildings, The Transformer needs to be in close proximity to critical buildings and campus. The location chosen was the only suitable site for the size of the energy centre.

Will the energy centre contribute to any academic research?

There may be opportunities to showcase the technology. Please contact Emel Kus-Senior for more information.

Who will be operating the Transformer?

We will soon begin a tendering process to find an experienced and reliable operator for The Transformer.
---
Disruption to access and parking at the Arts Tower
Due to engineering works, a number of car parking spaces will be unavailable from 5 - 30 October 2020.
We will be working to disconnect from the Veolia District Heating Network. The University has installed its own new district heating network for the energy centre (The Transformer) to ensure resilience and energy security for our world-leading research projects.
From 5 - 30 October 2020, 9 car parking spaces will be unavailable. Deliveries will be managed and access routes maintained.
We apologise for any inconvenience caused. For information about alternative car parks, please visit our Parking services pages.
Past news

August 2020: Commissioning of the gas boilers in Transformer will begin on Monday 10 August. A loadbank will be used to test the equipment and will be on site for one week. Commissioning activities will run until the end of September.

July 2020: Construction of the building is now complete and landscaping works on the site has begun. We are continuing with commissioning and plant rooms works on campus.

February 2020: We are removing three silver birch trees from area in between the entrance to Western Bank Library and Back Lane. We are advised that they are in poor condition. One of these trees also needs to be removed to conduct essential works for The Transformer project. We will be replanting six trees in this location in March.

More information about our tree policy can be found on our tree pages.

January 2020: The 45 metre tall chimney has been lifted in to place.

November 2019: Underground district heating works are almost complete and the construction of the energy centre is taking shape.

April 2019: Construction activities will start from Monday 8 April 2019. The ground will be prepared for drainage and concrete slab. During weeks 2 and 3, the contractor will carry out drainage works, fill and compact the ground in preparation for the concrete slab.

March 2019: Installation of district heating pipework in the service ducts underground between Geography and Western Bank Library plantrooms. Majority of the works will be undertaken in the underground service ducts and plantrooms. There is expected to be no disruption to users of the Geography building.

December 2018: We have appointed a main contractor, Vital Energi. They will start on site on 7 January 2019.

May 2018: Planning permission received

Early 2018: Lecture theatre attached to Dainton building to be demolished.
---
---
For project enquiresk contact the project manager. For general enquiries, contact the EFM Help Desk.
A world top-100 university
We're a world top-100 university renowned for the excellence, impact and distinctiveness of our research-led learning and teaching.