Mrs Laura Mason
Multidisciplinary Engineering Education
Departmental Safety Officer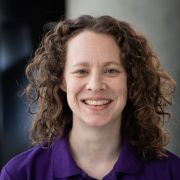 Profile

I am an Industrial Design graduate from Northumbria University. Upon completion of my studies I began working in Dubai as an Architectural Model Maker, undertaking large scale projects throughout the Middle East and also internationally. Health and safety didn't really exist in the Middle East, and I could be found wearing my flip flops in the workshop most days. After Dubai, I moved to Canada where I continued my work in architectural model making and prop design in Calgary, but it was far too cold for flip flops for the majority of the year.

Upon returning to the UK, I settled in Sheffield whilst working as a Senior Technician for the School of Art, Design and the Built Environment at Nottingham Trent University, it is here that my passion for health and safety began.

I have spent the last 7 years as Workshop Manager and Deputy Departmental Safety Officer for the School of Architecture at the University of Sheffield, where a new workshop facility was built from the ground up and all health and safety paperwork and procedures were developed from scratch. Day to day operations included training and overseeing students in the machine workshop, laser cutting, team management, stocking and operating a materials store, and advising staff and students.

I joined the department of Multidisciplinary Engineering Education in 2022 to oversee the day to day health and safety of the Diamond and ensure the safety of its users. I also advise teaching staff across the Faculty of Engineering and MEE on the education of undergraduates in Health and Safety, and in consultation with area specialists will design, develop and deliver a system for teaching health and safety knowledge and behaviours to our students.
Qualifications

Grad IOSH
NEBOSH National General Certificate
NCRQ Level 6 Diploma in Applied Health and Safety
FAA Level 3 First Aid At Work