Senior University Teacher/University Teacher
Are you passionate about practical engineering education? Do you want to make a difference to the educational experience of our students?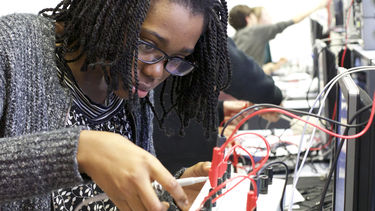 The Department of Multidisciplinary Engineering Education (MEE) is looking for an enthusiastic individual to join us as our new University Teacher in Electrical and Electronic engineering.
You will join a team of innovative educators who are responsible for delivering practical engineering education to engineering students. MEE is a cross-faculty department responsible for delivering practical teaching for the Faculty of Engineering within extensive laboratory and workshop facilities. MEE's vision is "We collaborate to deliver excellent teaching and memorable learning experiences that transform students into independent, practical Engineers".
We provide a student centred learning experience that provides the opportunity for students to realise their full potential as engineering leaders: people who will shape the future of the world we live in.
Your role will be to:
Deliver and assess high quality laboratory experiments and practical training in electrical and electronic engineering.
Be responsible for liaising with departments and lecturers to ensure that the teaching in The Diamond supports their aspirations.
Devise new activities to ensure that the student experience is engaging, up to date and relevant. We are committed to exploring flexible working opportunities which benefit the individual and University.