Sheffield academics awarded unprecedented funding to expand access to practical engineering education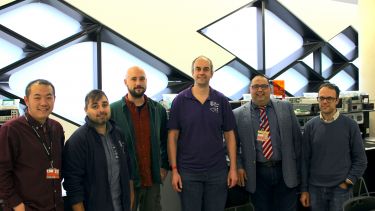 The Department of Electronic and Electrical Engineering at the University of Sheffield, in partnership with the Multidisciplinary Engineering Education team based in the University's Diamond building, has been awarded £633.5k in funding from UK Research and Innovation (UKRI), under the 'Driving the Electric Revolution - Building Talent for the Future 2' challenge, for a unique project focused on practical teaching
 
The funding will be used to provide practical skills training in power electronics, machines and drives for all. This will ensure that students, graduates, trainees and the engineering workforce are given realistic practical experiences through new teaching equipment, digital and in-person teaching materials and an outreach programme
 
The objective is to remove cost and accessibility barriers to high-quality teaching equipment in machines and drives 
A unique project, focused on ensuring access to practical Power Electronics, Machines and Drives (PEMD) education and teaching, has been awarded £633.5k in funding by UKRI. This will be used to provide training and skills development across further and higher education, alongside retraining the existing engineering workforce to ensure engineers and technicians are ready to meet industrial needs in the electric revolution era. 
The funding is part of the UKRI's 'Driving the Electric Revolution - Building Talent for the Future 2' challenge, which is enabling a smooth transition towards a net-zero economy through large-scale electrification. As part of this, a skills gap in power electronics, machines and drives was identified in the existing and future workforce that will be needed to deliver the necessary changes to our infrastructure. 
There is currently no openly accessible, online practical facility dedicated to PEMD teaching in the UK. What is currently available is beyond financial reach for schools and further education providers, prohibitively expensive for teaching at university scale and often comes with features of compromised quality. 
The facilities and resources created through the University's project will ensure that students, graduates, trainees and the existing engineering workforce are given realistic practical experiences, as informed by the needs of national PEMD employers and companies within the UK.
The project will be led by the Multidisciplinary Engineering Education (MEE) team at the University of Sheffield, working in partnership with the University's world renowned Electronic Machines and Drives (EMD) research group, based in the Department of Electronic and Electrical Engineering. This will ensure the relevance of the projects' work to industry, based on industry trends and needs, as well as cutting-edge technology and research.
MEE is the only UK academic department dedicated to practical engineering teaching, with a proven record of course material and teaching equipment design. Based in The University's Diamond building, with its state-of-the-art equipment and dedicated engineering laboratories, the team is able to break down the barriers between the various engineering disciplines to deliver large-scale teaching.
The funding will contribute to designing and building new teaching equipment which will be used to teach machines and drives at scale, both in-person and remotely. It will also create new design exercises based around eBikes and VTOL (vertical take-off and landing) delivery drones, an online twin of a "real world" power electronics lab, and an online short course to be hosted by the IET (Institution of Engineering and Technology) Academy, based around practical design exercises. 
Panos Lazari, University Teaching Associate in MEE, and project lead, said: "We believe our approach is unique in having national applicability through equipment loan schemes and online remote access to the lab resources based here at Sheffield. Rather than focusing on a specific cohort of learners, we designed a project to focus on practical skills training at all levels."
They also aim to loan the equipment built under this grant to schools, further education colleges and other institutions, providing openly available online resources including remote labs, to open up Practical PEMD activities for everyone.
Panos Panagiotou from the EMD research group in EEE, said: "Students often leave university or college with a robust theoretical background in electrical engineering and the fundamental theory behind machines and drives, but are unable to apply this in the workplace to new challenges. This funding will aim to address that and in the EMD group, we will contribute by sharing facilities and staff expertise, helping build skills and talent for the engineers of the future involved in electrification."
Panos Lazari added: "Providing practical experience of electrical machines and drives is expensive, so these skills are often neglected by training providers. This is a problem for existing engineers who require reskilling in electrical technologies, just as much as graduating students; finding time for retraining and including a practical element to that training is exceptionally difficult. This project will revolutionise how power electronics, machines and drives (PEMD) are taught, not just to students here at Sheffield but with national impact. Practical skills will be key to preparing engineers to deliver electrification at scale across the country. Thanks to our previous colleague, Adam Funnell, for his contribution in getting this grant awarded. Our team is excited to make this project a reality and liberate access to state-of-the-art practical PEMD training for everyone."
This project is also in collaboration with Matrix TSL, a leading UK manufacturer of engineering education equipment, who will be co-designing the newly developed equipment with The University of Sheffield. The finished equipment which will be used for the project will also be brought to market as an affordable product for teaching and training in power electronics, machines and drives.
Flagship institutes
The University's four flagship institutes bring together our key strengths to tackle global issues, turning interdisciplinary and translational research into real-world solutions.