UK Computational Intelligence Workshop hosted in Sheffield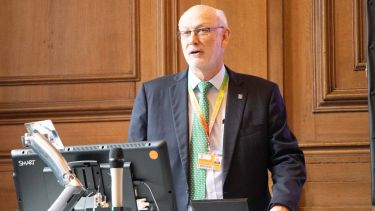 The 21st Annual UK Workshop on Computational Intelligence (UKCI) was hosted by the Department of Automatic and Control and Systems Engineering (ACSE) and the Faculty of Engineering. 
The UKCI is one of the main UK-led international conferences for presenting new research into all areas of Computational Intelligence, attracting scientists, engineers and practitioners mainly in the areas of neural networks, fuzzy systems and evolutionary computation.
The conference was opened by Professor Jim Litster, Faculty Vice-President and Head of Engineering at the University of Sheffield. 
The plenary speakers at this year's conference were Professor Wenwu Wang (University of Surrey) with a presentation on Deep Learning for Automated Audio Captioning, Professor Hani Hagras (University of Essex) discussed research titled Towards human-friendly explainable artificial intelligence and Professor Jon Garibaldi (University of Nottingham) on the The Need for Fuzzy AI.
There was new research presented over the three day conference with sessions on machine learning, deep learning, fuzzy logic, hybrid methods, network systems and optimisation and search.
One of the highlights of the conference was the conference dinner at Kelham Island Museum - one of the city's oldest industrial districts. The museum stands on a man-made island over 900 years old and included a demonstration of the River Don Engine, the most powerful working steam engine in Europe. 
The conference's General Chair was George Panoutsos, Professor in Computational Intelligence and recently became Head of Department in ACSE.
The Programme Chairs were Professor Mahdi Mahfouf and Professor Lyudmila Mihaylova from the same department, and the conference's International Programme Committee as well as Technical Programme Committee worked together to bring this conference to Sheffield, as a fully in-person conference.
The prize winners at the workshop were: 
Prize for Best Paper of the Conference
Noisy instance removal using OWA-based fuzzy-rough sets
(Richard Jensen, Neil Mac Parthaláin, Mehran Amiri and Jörg Cassens)
Daniel Dimanov, Prize for Best Presentation 
Resource Aware Multi-Objective Semantic Segmentation RAMOSS through Neuroevolution 
(Daniel Dimanov, Colin Singleton, Shahin Rostami and Emili Balaguer-Ballester.
Yupeng Bai, Una May O'Reilly Prize for Best Student Paper
Transport Object Detection in Street View Imagery Using Decomposed Convolutional Neural Networks)
(Yunpeng Bai, Changjing Shang, Ying Li, Liang Shen, Xianwen Zeng and Qiang Shen. 
Flagship institutes
The University's four flagship institutes bring together our key strengths to tackle global issues, turning interdisciplinary and translational research into real-world solutions.