University of Sheffield and Siemens 'Digital Innovation Zone' welcomes first students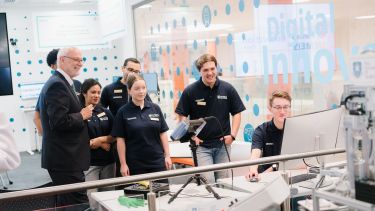 The advancement of the Digital Innovation Zone (DIZ) is the result of a long-standing and considerable investment relationship with Siemens, as well as the improvements of the University's facilities and digital curriculum to mirror the rapidly developing engineering sectors.
DIZ aims to create and upskill more engineering students and graduates as well as local businesses by promoting the acquisition of digital skills, promoting digital entrepreneurship and using digital technology to transform hands-on learning. 
The space will act as a 'living lab' with industry-standard, high-spec technology available to students 24 hours.  The equipment within DIZ will have a special focus on digital industries including: in-house digital demonstrators and student-accessible workstations, showcasing the potential of live stream data analytics and visualisation applications; Computer Aided Design (CAD) software, edge computing, digital simulation, and a digital twin of the Diamond Pilot Plant, the only one of its kind in any UK university.  
The DIZ, which is located in the university's iconic Diamond building, attracted a variety of undergraduate and postgraduate students from across the faculty of engineering to the opening. The space was opened by Vice President and Head of the Faculty of Engineering Professor Jim Litster and Head of Siemens Digital Innovation Dave Moss. 
---
As an advisor, you have the opportunity to share your unique perspectives and expertise to support and guide others. In addition, the DIZ offers a supportive working environment, where you can make a positive impact on those you advise."

Saad Mahtar

BEng Mechanical Engineering student 
---
The DIZ will be run by students for students and currently has 25 student 'Digital Advisors'.  The advisors will provide hands-on, trained expertise supporting the current and the new engineering cohort coming to Sheffield in September 2023.
"The DIZ is an invaluable resource for students, providing a supportive and engaging environment for learning and innovation. By taking advantage of all that the zone has to offer, students will have the opportunity to build a strong foundation of technical skills, develop their creative thinking, and gain valuable hands-on experience that will help prepare them for a successful career in our ever evolving technological world."

Haydn Diniz 

Digital Innovation Zone Manager 
For further information on contact Haydn Diniz haydn.diniz@siemens.com 
A global reputation
Sheffield is a research university with a global reputation for excellence. We're a member of the Russell Group: one of the 24 leading UK universities for research and teaching.