Activities for Sixth Form & College Students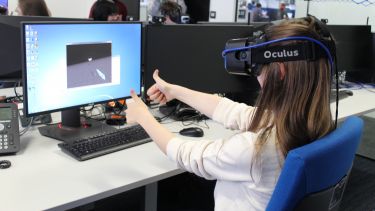 Taster Days/Sessions

Our online taster sessions help Year 12 and Year 13 students experience what it is like to study at the University of Sheffield.

These are the current engineering tasters available at the moment:

| Subject | Topic | Date | Learn More |
| --- | --- | --- | --- |
| Automatic Control & Systems Engineering | Mechatronics & Robotics Engineering: How can we control & shape our future with robots? | Tuesday 22nd November | Book ACSE taster |
| Electronic & Electrical Engineering | Virtual Arduino lab - an introduction to EEE | Wednesday 23rd November | Book EEE taster |
| General Engineering | Engineering for a renewable future! | Thursday 24th November | Book GEN taster |
| Bioengineering | What is Bioengineering? | Monday 28th November | Book BIO taster |
| Civil Engineering | Innovations in Structural Engineering: Strengthening against Earthquakes | Tuesday 29th November | Book CIV taster |
| Chemical & Biological Engineering | Optimizing your future with Chemical Engineering | Thursday 1st November | Book CBE taster |
| Aerospace Engineering | Aerospace Engineering: from kites to satellites | Monday 5th November | Book Aero taster |
| Mechanical Engineering | Sensing the world with sound | Thursday 8th November | Book Mech taster |

Discover more about Taster Days at Sheffield.

University Options

This free one-day event is for Year 12 students studying maths, physics or science A Levels.

Experience hands-on activities, demonstrations and short lectures to give you a taste of what studying science and engineering at university involves.

Watch our event from 2018:

Discover STEM

Discover STEM is a two year pathway starting in Year 12 for students studying A Levels (or equivalent) in science and/or maths who have an interest in finding out more about STEM subjects available at university.

You should:

Be studying a minimum of 3 A Levels including maths and a science subject or two science subjects
Have a minimum of 5 A*-B (or 9-6), plus a minimum of C (4) in English, if not already included. Additionally, B (6) in maths and science.
Attend a state school
Be in the first generation of their family to enter Higher Education (HE) (other than siblings, or parents who attended HE as a mature student)
Be either:

From a low progression to HE area and the lowest socio-economic groups
Are a Looked After Child/Young Adult Carer/Estranged student
Are a student with a declared disability
Have individual circumstances that mean they will need to overcome other barriers to learning/progression. We will assess this element on an individual basis, based on the information provided by the school.

Headstart Summer School

Run in conjunction with the Engineering Development Trust (EDT), Headstart is a five day residential aimed at Year 12 students studying A Level maths and science. You will have the opportunity to come to Sheffield and experience what it would be like to be an engineering student by attending mini-lectures, experiencing  hands-on experiments in labs whilst living in halls of residence.

Learn more about Headstart.

Watch our video from 2018.

Science & Engineering Foundation Year

If you have a talent for STEM but need to improve your entry requirements in mathematics and science, our Foundation Year programme is an ideal starting point. We prepare you for degree-level study in a supportive learning environment.

This is a one-year programme for those who don't quite meet the entry requirements for year one or who have decided to take a change of career direction.

Read more about the courses available and how the program is structured here.

Pathway to Engineering

If you want to study Mechanical or General Engineering but you're not taking a physics A-Level or one of the alternative applied science subjects required, our Pathway to Engineering programme will allow you to access the following courses without the need to do a Foundation Year. You'll get all the support you need to get started on our undergraduate degree programmes.

Fees:

We want to open up engineering to as many students as possible and there are no tuition fees for Pathway to Engineering.

During the programme you will stay in University halls of residence, for this a £500 accommodation cost does apply.

We can offer scholarships to all female applicants and widening participation applicants to cover the costs of accommodation. 

Apply:

Please get in touch with the admissions contact from the department you are interested in: 

Once you've spoken to your chosen department, make a normal UCAS application to be considered for an offer to study your chosen BEng/MEng degree. The Pathway to Engineering does not have a specific UCAS code, please use the one related to your chosen degree course.

You do not have to pass any exams on this course to progress onto your degree, all we ask is that you attend all sessions.