Ben Steere - Year in Industry
MEng General Engineering with a Year in Industry - General (Mechatronics) Stream
My year in industry at Texecom allowed me to make a real impact, solving real life problems straight away. I was encouraged to make my contribution to the company and in turn I was able to develop my technical skills and my soft skills such as cross team collaboration.
My placement was with Texecom, which is part of the FTSE100 Halma group. Texecom is an international leader in electronic security devices, and Texecom products protect people and property around the world. My role as a Production Intern in the Operations department differed from what could be considered a 'typical' engineering internship. The Operations Leadership team has a highly hands-off and flexible management approach, with support with project selection and kick-off, but the projects I ran demanded a high level of autonomy and initiative.
My projects revolved around the business lean manufacturing transformation, whether that be automation, industry 4.0, digital manufacturing, or data analytics. Throughout my time at Texecom there was scope to craft and tailor my own projects that aligned with the themes above. Whether that be out of a desire to solve a problem identified on the shop floor, or to focus on a specific area of development such as the opportunity to lead a team on the shop floor. While all the projects I worked on had technical aspects, throughout the year there was a clear focus on all-important soft skills; from collaborating with others of very different experience and ability to myself to reaching out to suppliers and potential partners to solve problems at the coalface of production at Texecom.
The MD,  Executive Board, and Senior Leadership team are passionate about developing young talent and supporting everyone in the business to strive and thrive together. As a result, it was truly humbling to rapidly become a very valued member of the team and being able to get involved and contributed to high-level strategic meetings. One such opportunity was attending the weekly Operations meetings lead by the Operations Director, with the production, procurement, quality, and manufacturing managers. Contributing to discussions on subjects from seismic order quantities from China to responding to Brexit, along with helping to formulate response strategies was extremely rewarding. It was a brilliant insight into what senior leadership in manufacturing looks like.
My largest and biggest impact project at Texecom was the development of a business analytics platform. This project presented some of the biggest challenges I faced in my year in industry, with immensely complex integrations and development processes. But by rapidly iterating with end-users, brilliant results were reached that have made a big impact on the business in a relatively short timeframe.

The biggest lesson this project taught me was that of the importance of chalk circles. Before attempting to solve a problem, first spend time truly understanding what the problem is by spending time down on the shop floor. Having learned from experience that if you don't follow this technique you often end up not solving the true root cause at hand or often you end up solving the wrong problem!
When Covid struck, Texecom and other Halma companies immediately pivoted to protect hospital workers and sick patients. It was deeply humbling to play a pivotal role working with other Halma companies to 3D print masks for NHS staff. Having spent the best part of 3 weeks, day and night I'd reduced cycle times by more than 83%, printed in excess of 2000 masks, and help in scaling up high volume manufacture to 20,000 by late April. It was even more humbling to be personally thanked by Halma's VP and other senior leaders. I'm just happy that we were able to come together and make a difference.
My work experience prior to Texecom had been that interns are assigned projects that are often interesting and challenging but far from the coalface of real business activity. It's almost as if interns are boxed in, not trusted to work on projects that deliver real value to customers. My experience at Texecom could not have been more different. I've been extremely humbled, and truly privileged to be part of the Texecom family for the last 14 months. A family that embraced me from day one and gave me the responsibility, space, and the resources to grow from the naïve young student I join as, into the rounded, confident leader that I am today.
The focus on Systems Engineering and Interdisciplinary Design I studied in my degree was highly applicable throughout my year in industry. Being an agile problem-solver, equipped with the tools to logicially structure concept generation and evaluation was vitally useful on a daily basis, particularly given the massive diversity of projects I worked on. Also, the broad background is super useful to understand & synergise ideals from multidisciplinary teams that are prevalent throughout engineering, if anything it puts you in quite a natural leadership position. 
My year in industry experience has inspired me to pursue a career in manufacturing operations, having really enjoyed the fast-paced nature and drive to improve efficiency and sustainability. I'm currently planning on rejoining Halma on a permanent basis as having had such a wonderful experience at Texecom I couldn't see myself working anywhere else! 
For the remainder of my degree I wanted to centre my module choices around robotics & automation while maintaining some variety. It's certainly a change of pace from the breath of the first two years but it's given scope to dive deeper into areas of engineering that I find the most interesting, along with equipping myself with specialised knowledge inspired by my year in industry. Having the year in industry has helped me to decide to focus my module choices around machine learning, data mining & automation.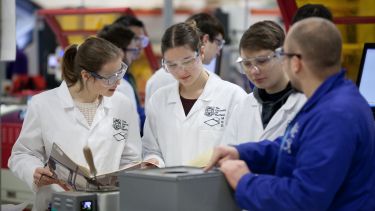 A world-class university – a unique student experience
Sheffield is an engineering research university with a global reputation for excellence. We're a member of the Russell Group: one of the 24 leading UK universities for research and teaching.
Explore the University
Discover why Sheffield is the right choice for you at one of our open days or events.