It made sense for me to undertake a broad-based engineering course to gain as much exposure to multiple fields of engineering
MEng General Engineering with a Year in Industry
I wanted to develop sensibilities for the technical requirements of each field while creatively drawing from each.
Why did you choose to take this course and where do you hope your future career path will take you?
"It was a logical progression from my predominantly STEM A-Level subjects, especially in special regards to evaluating how I could develop my product design skills. I wanted to achieve a level of technical proficiency where I could competently implement engineering science properly to bring my ideas to fruition.
As of writing, I stand before the crossroads of specialisation, but I intend on arriving at a career as a design engineer. I wish to get tightly involved with highly hands-on interdisciplinary projects with the simple intent to contribute as much positive impact to the world, never ceasing in pursuing the lofty target of engineering novel, useful and sustainable solutions."
Why did you choose to include a Year in Industry in your degree?   
"A year in industry is an indispensable experience - essentially a trial to see if what I have learned holds up in practice. I get to see how effectively I can transfer my knowledge, as well as have an opportunity to make a real impact. A placement year will provide me with relevant evidence to guide my decisions on what my career path should be, as well as provide tangible evidence to prospective employers."
What have you enjoyed most about your degree so far and why?  
"The course has played a strong role in developing my project management skills in engineering projects. All the content in my degree has been incrementally developing my proficiency in teamwork (i.e delegation), clearly specifying tasks, collaborative design discussion and ultimately in ensuring targets are met in a timely manner through a systematic process. There is a genuine kick in exploring what you can successfully apply from what you have been taught into your current work.
I found becoming a Student Representative for the course was a development of a natural inclination to feedback and aid in improving and developing the course for current and future cohorts. It entails conversing with your fellow students and then working with the other reps from every other year of the course before joining faculty academics at meetings to discuss and evaluate what student concerns can be directly addressed for immediate effect."
What are you most proud of achieving whilst at University?  
"I feel honoured to be part of a student-led engineering project called Railway Challenge at Sheffield (RCAS - https://sites.google.com/sheffield.ac.uk/rcas).  It is a highly enriching collaborative team project for me to contribute to and learn from. It has also been my privilege to be the Manufacturing Coordinator for RCAS this year, for which I have been currently responsible for the logistics in preparing the team to move into a brand new laboratory within the Heartspace in the Mappin building. I would really recommend joining a student-led project at Sheffield as soon as you can for it complements and enhances your degree experience!"
Do you have any advice for students considering studying General Engineering?
"Try to establish what outcomes you want to achieve by doing this course. This course has such a breadth of content at times that it can become a genuine logistical challenge to balance exploring everything in-depth and complete to a high standard. Since you'll eventually specialise, it'll be tremendously helpful to pinpoint and visualise your long-term targets so that you may optimise how you spend your time across the modules.
Come with an open mind and come prepared to be inspired by the fascinating work permeating the entire domain of engineering on show at Sheffield."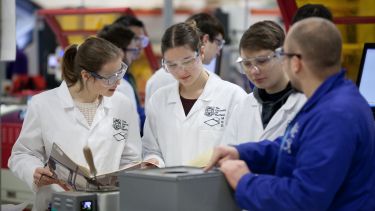 A world-class university – a unique student experience
Sheffield is an engineering research university with a global reputation for excellence. We're a member of the Russell Group: one of the 24 leading UK universities for research and teaching.
Explore the University
Discover why Sheffield is the right choice for you at one of our open days or events.