Gender equality and diversity
The Health Sciences School is committed to taking positive action to ensure that all of our staff, students and clinic service users feel included and are supported to flourish and succeed within our learning community.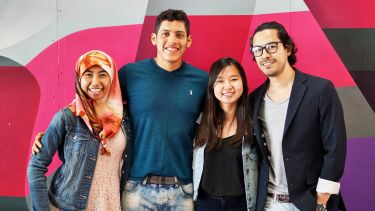 The Athena SWAN Charter
The Athena SWAN Charter celebrates success in advancing gender equality in higher education and research. 
The University of Sheffield holds the Athena SWAN Silver Award for an ongoing commitment to progressing gender equality. In May 2019, our award was renewed until 2022, making us one of only 18 universities to hold this accolade. On top of this, 21 departments hold a bronze or silver award, including Human Communication Sciences and Nursing and Midwifery.
Athena SWAN at The University of Sheffield
---
Human Communication Sciences
In Human Communication Sciences, a departmental Gender Diversity and Equality (GDE) group was formed in 2012 in order to promote equality of opportunity and aspiration for staff and students of all genders. As a Department, they have a long tradition of supporting students and staff from diverse backgrounds to progress and achieve. The GDE was established to share and formalise best practice specifically in relation to gender issues.
In recognition of the department's positive work around supporting staff and students of all genders, Human Communication Sciences were delighted to receive a Bronze Award from Athena SWAN in September 2013 - this was renewed in 2017. This award recognised that the department has identified key issues in relation to gender equality and diversity within its subject areas, and has created an action plan to address these.
---
Nursing and Midwifery
The School of Nursing and Midwifery was successful in achieving a bronze award for its achievement and hard work promoting gender equality in April 2014 - this was renewed in 2017. In order to achieve a bronze award, the department worked with colleagues to identify particular challenges and took action to respond to these, which had a demonstrable impact on the school.
The school was commended on its courses, which are delivered on a full-time and part-time basis, and have online and blended learning options, resulting in increased uptake from women with caring responsibilities and a greater than usual proportion of men.