Eve Hopkinson, BMedSci Nursing (Adult)
"The lecturers and tutors are very professional and knowledgeable. Different tutors have different teaching methods which is really useful", explains Eve Hopkinson, who is studying adult nursing.
"The cohort sizes are relatively small on my course, which makes it is easy to have a conversation, meeting, or tutorial with the tutors. There is a really good support network from the tutors and they all know your name!"
"I am from Sheffield. When I was growing up, I wanted to work with children with learning disabilities", she recalls. "However through life experience and various jobs I decided to go back into education and completed an access course for healthcare professions. I then applied to study adult nursing at the University of Sheffield."
"I chose the University of Sheffield for a few reasons. Mainly because it is one of the best universities in the country! Being from Sheffield, it's also convenient that I can live at home and traveling to the University is easy. When I qualify I will be so proud to say that I got my degree from the University of Sheffield in my home city."
"One of the things I find most enjoyable about the course is that it's split equally between learning the theory and gaining practical experience on placement", she says. "Clinical skills sessions at Samuel Fox House are good, as we can practice procedures on manikins, such as the removal of sutures, A-E assessments, and oxygen delivery."
Of all the facilities available to students on campus, Eve particularly values the 301 Academic Skills Centre. This is a centre for excellence in student skills training, support and development, providing study skills workshops, tutorials and online resources. "The tutors in the 301 Centre are very helpful and supportive", Eve says. "I personally attended a critical thinking and essay writing workshop, which was extremely useful."
"The learning centres around campus, such as the Information Commons and the Diamond Building, provide a range of computers and books, plus rooms for groups of friends to study. The cafés around campus are also handy!"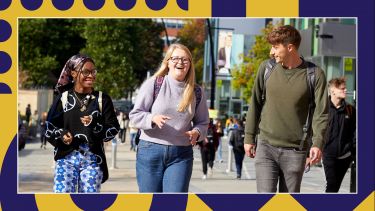 Advance Register for Clearing
We have places on our undergraduate courses this autumn. If you've already got your results you can apply now, or if you're still waiting for results get your name on the list by advance registering.