Nursing Degree Apprenticeship (Top Up) 18 month programme
This programme is for apprentices who have completed the Nursing Associate Foundation degree programme and are Registered Nursing Associates and can recognise prior learning (RPL) out of the first 18 months of the 3 year Nurse Degree Apprentice programme.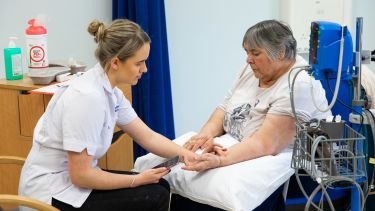 The programme aims to produce nurses who have the knowledge, skills and behaviours to apply current research and policy to their practice and develop the leadership and problem solving skills to practice safely and effectively so they can enter the Nursing and Midwifery Council (NMC) Professional Register as an adult nurse.
Leading to the award of: BMedsci Nursing (Adult)
Programme duration:18 month (37.5 hours a week supernumerary)
The nurse degree apprentice (Top Up) completes 1150 hours of theoretical learning and 1150 hours of supernumerary practice learning over the two year programme
Intakes a year: March
It is an Apprenticeship Degree course (Level 5 study Part 2, Level 6 study Part 3)
An end Point assessment needs to be completed after successful completion of both Parts on the course
Leads to registration as an adult nurse, covering all fields of practice
The nurse degree apprentice is usually employed 37.5 hours per week
The course is split into study blocks, blocks of supernumerary practice and learning with study days
Apprentices  study alongside direct entry students at University 
The nurse degree apprentice (Top Up) completes 1150 hours of theoretical learning and 1150 hours of supernumerary practice learning over the18 month  programme
Holidays are set throughout the programme.
The students will RPL out of the first 3 units of the part time 3 year programme Nurse degree apprenticeship. Therefore the 18 month  Top- Up programme has 2 Parts and 3 units, 1 unit in Part 2 and 2 units in Part 3 and a final end point assessment that takes place after the course has finished:
Part 2
Unit 4 - Patients with Long Term and Complex Needs
Part 3
Unit 5 - Transitions to Practice; Developing Autonomy
Unit 6 - Transitions to Practice: Managing and Organising Care
Nurse degree apprentices will undertake theoretical study blocks and have different supernumerary placements in each unit so they have a variety of experience which will enable them to meet the NMC requirements. Practice learning opportunities will facilitate the nurse apprentice to develop and meet the standards of proficiency for registered nurses to deliver safe and effective care to a diverse range of people across the four fields of nursing practice: adult, mental health, learning disabilities and children's nursing. Placement experiences will be in hospitals, other health institutions and in the community.
A blended learning approach will provide the nurse degree apprentice with a variety of learning opportunities and resources which will facilitate their achievement of the NMC proficiencies, programme learning outcomes and be capable of demonstrating the professional behaviours of the NMC Code. Nurse degree apprentices are empowered and supported to become resilient, caring, reflective and life long learners who are capable of working in interprofessional and inter-agency teams The programme acknowledges and respects the knowledge, skills and experience the nurse degree apprentice brings to the programme. The nurse degree apprentice will be supported, supervised and assessed by university and practice staff to develop their knowledge, skills and behaviours to enable them to meet the standard required of a registered nurse and degree level study. The nurse degree apprentice will be encouraged to critically reflect on their knowledge and skills throughout the programme.
The nurse degree apprentice will need to successfully achieve a range of assessment tasks and a practice assessment in each unit to successfully complete the learning outcomes of the programme.
End point assessment (Zero credit) Post completion of the course the nurse degree apprentice will complete the endpoint assessments as required by the Nurse Degree apprenticeship standards identified in doc.ST078/AP03
This programme is advertised locally in partnership organisations and application is via their recruitment processes (i.e NHS jobs). The University does not currently recruit directly to the course.
Candidates need to have completed the Nursing Associate Foundation degree and be a registered Nursing Associate.
Candidates must also have completed English and Maths GCSE grades C/4 or above or ESFA approved equivalent qualification.
Other requirements
Suitable for an adult field of practice.
Demonstrates values in accordance with the Nursing and Midwifery Code of Professional Conduct (2018).
Interview and 1 reference required.
DBS and Occupational Health Check required
Interview/Assessment Centre
Recruitment, shortlisting and interviews will be organised by the employer in partnership with the Division of Nursing and Midwifery and service users.
Disclose and Barring Service (DBS)
You will be required to have a DBS enhanced (including children) within the last 3 years.
Digital Learning Technologies
Nurse degree apprentices are required to demonstrate the ability to use digital technology prior to commencing the programme, so you will be given a link once appointed to a free digital learning and testing site where you will complete the 'basic computer skills' package and submit the certificate as evidence as directed by your employer or on your first day of learning at the university. This link is free to use and allows learning and practice of digital skills prior to taking the test. The test can be taken several times.
This programme will lead to a Degree in Nursing (Adult) and permit entry onto the 'end point assessment' gateway. Entry into the gateway is permitted for all nurse degree apprentices who have successfully completed all assessments and required hours of the degree programme. Training for the 'End Point Assessment' takes place in this gateway supported by the employer. Once deemed ready, the nurse degree apprentice is assessed by the 'End Point Assessment Examiner' who grades as either Pass or Fail – 2 attempts are allowed.
Once the end point assessment is passed, application to the Nursing and Midwifery Council (NMC) is made to become a registered nurse.
Currently met by the Employer's Apprentice Levy.
Travel to university and placement will not be met by the University. Please speak to your employer about expenses.
If you are an employer and you are interested in joining the partnership groups or having a nursing apprentice in your clinical area please contact Lynne Firth lynne.firth@sheffield.ac.uk or Anna Christian a.christian@sheffield.ac.uk who will provide you with more information.
A world-class university – a unique student experience
Sheffield is a research university with a global reputation for excellence. We're a member of the Russell Group: one of the 24 leading UK universities for research and teaching.