Senescence and Cancer: A review of clinical implications of senescence and senotherapies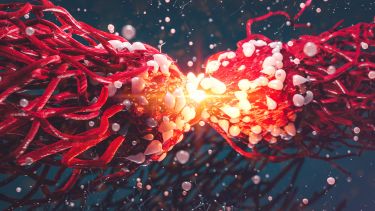 A review into senescence and cancer by a new collaborative team including experts from the Healthy Lifespan Institute at the University of Sheffield and the Mayo Clinic is published in the Cancers journal special issue "Senescence and Cancer".
The review looks at the clinical implications of senescence, a key component of human ageing which links ageing and cancer together and senotherapies which are a new group of drugs.
What is senescence?
Cellular senescence is a key component of human ageing that can be induced by a range of stimuli, including DNA damage, cellular stress, telomere shortening, and the activation of oncogenes. Senescence is generally regarded as a tumour suppressive process by preventing cancer cell proliferation. It may also be a key effector mechanism of many types of anticancer therapies, such as chemotherapy, radiotherapy, and endocrine therapies, both directly and via bioactive molecules released by senescent cells (celled senescent activated secretory phenotype or SASP). However, senescence can be positive or negative. In the short term senescence can block cancer cell proliferation and the SASP can promote immune responses to the tumor cells. In the long term the SASP may provide a pathway for disease recurrence after cancer therapy as the SASP increase the proliferation of residual tumor cells, which have escaped killing by chemotherapy. In addition, the chemotherapy agents can induce senescence in all normal cells in the body reducing their ability to maintain the function of tissues and organs and accelerating the ageing process.
What are senotherapies?
Senotherapies are a new group of drugs which interact with senescent cells to interfere with their pro-ageing impacts. They do this by either selectively destroying senescent cells (senolytic drugs) or inhibiting their function (senostatic drugs). Senotherapies are under active investigation to determine whether they can enhance the efficacy of cancer therapies and improve resilience to cancer treatments. Senolytic drugs include quercetin, navitoclax, and fisetin. Preclinical and early phase clinical data are emerging of their potential role in cancer treatments, although none are yet in routine use clinically.
Can senotherapies enhance cancer therapies and improve resilience to cancer treatments?
Senotherapies may become a valuable adjunct to cancer therapies both by direct destruction of the chemotherapy-induced senescent cell population within a tumour, reducing the long-term secretion of the proinflammatory SASP and reducing the possibility of relapse or of developing cancer resistance to chemotherapeutic agents. It will also help to reduce the senescent cell burden in normal tissues, which predispose to the development of other diseases, such as heart disease and muscle weakness, often associated with cancer. Research into the potential of a range of senotherapies is rapidly growing and hopefully new agents will enter clinical practice in the near future.
Flagship institutes
The University's four flagship institutes bring together our key strengths to tackle global issues, turning interdisciplinary and translational research into real-world solutions.