Professor Jim Wild appointed Executive Director of the Insigneo Institute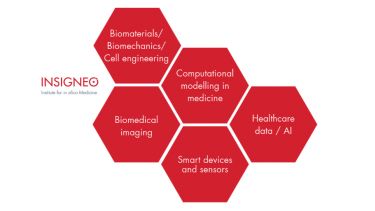 Over the last year, Professor Jim Wild has been Interim Executive Director of the Insigneo Institute for in silico Medicine and has led on a major strategic review of the future direction for the institute.  The research vision and proposed structures have received the support the Insigneo membership and stakeholders, and faculty leadership: Professor Christopher Newman, Interim Vice President and Head, Faculty of Medicine, Dentistry and Health and Professor Jim Litster, Vice-President & Head of Engineering. Jim will now continue to lead Insigneo as substantive Executive Director with a view to developing the research themes that are outlined above.
The Insigneo Institute's research focus now expands across five key research themes which bring together computational 'in silico' and innovative technological approaches to address modern biomedical research and healthcare questions.
Going forward the Insigneo Institute's research will focus on:
An emphasis on excellent fundamental science and engineering research with impactful biomedical research applications - the new research themes map onto priority funding areas.

Increasing our clinical impact 

- building on successful clinical translational impact in specific disease areas the Institute will widen its focus to technological approaches that are relevant to all modern healthcare challenges and sectors in this region and globally.

Intersecting with and supporting 

key multidisciplinary medical themed research initiatives.

Leading and supporting 

the University's approach on computational and technological healthcare research and infrastructure in partnership with the NHS.

Maximising uptake of Insigneo's technologies with strategic industrial partnerships and membership of Insigneo beyond Sheffield.
"I am very happy and honoured to help take Insigneo forward in this next stage. The review has been well received by existing Insigneo members and we have had an influx of new members join from across faculties. We have massive potential in Sheffield to build on Insigneo, with a world class faculty of Engineering, excellent science at the biology-physics interface, strong collaborations with our partners in Sheffield Teaching Hospital (the UK's largest NHS teaching hospital) and Sheffield Children's Hospital and a track record of industrial collaboration as exemplified by the AMRC."

Jim Wild

Professor of Magnetic Resonance Physics, Department of Infection, Immunity & Cardiovascular Disease
Background to Jim Wild
Jim is a Magnetic Resonance Physicist/Engineeer who has been at University of Sheffield since 2000, his research is focused on the technology and applications of hyperpolarised gas and lung Magnetic Resonance Imaging (MRI). As an applied physicist / engineer who has been based in the faculty of medicine for >20 years he has worked closely with clinicians and industrial collaborators on translating technologies for healthcare benefit. He is Head of Imaging in the Department of Infection, Immunity & Cardiovascular Disease and is based in the Medical School. He has been a member of Insigneo since 2012 and previously served on the Insigneo board as Director of Research from 2018-2020.