The Insigneo Institute structure is composed of our Members, Board of Research Directors, Operations Team, Steering Committee and Advisory Board and led by the Executive Director.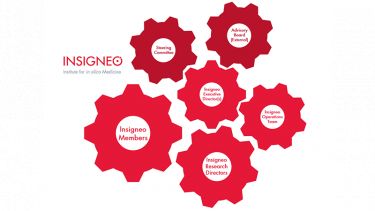 Professor Jim Wild
Executive Director
Professor Jim Wild is the Executive Director at the Insigneo Institute for in silico Medicine.
He is a Magnetic Resonance Physicist who joined the University of Sheffield in 2000 to set up the technology for hyperpolarised gas lung Magnetic Resonance Imaging (MRI).
Jim's research focuses on the physics and engineering and clinical applications of hyperpolarised gas (3He and 129Xe) and proton MRI in the lungs and pulmonary vasculature.
His research has demonstrated the role of these pulmonary MRI methods in Asthma, COPD, Cystic Fibrosis, Interstitial Lung Disease, Lung cancer and Pulmonary Hypertension.
Using hyperpolarised gas and proton lung MRI, he is evaluating novel pulmonary therapies in collaboration with pharmaceutical companies. The lung imaging methods and models are the basis of patient specific in silico models of lung disease at Insigneo in VPH projects such as Airprom.
His POLARIS research group are based in the MRI unit in the Department of Infection, Immunity and Cardiovascular Disease, which is home to the Insigneo image computing lab.
A world top-100 university
We're a world top-100 university renowned for the excellence, impact and distinctiveness of our research-led learning and teaching.