Our research expands across five key research themes bringing together computational 'in silico' and innovative technological approaches to address modern biomedical research and healthcare questions.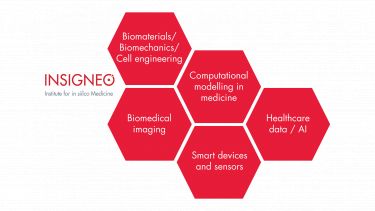 Across these themes our research will focus on:
Excellent fundamental science and engineering research with impactful biomedical research applications.
Increasing our clinical impact - building on successful clinical translational impact in specific disease areas the Institute will widen its focus to technological approaches that are relevant to all modern healthcare challenges and sectors in this region and globally.
Intersecting with and supporting key multidisciplinary medical themed research initiatives.
Leading and supporting the University's approach on computational and technological healthcare research and infrastructure in partnership with the NHS.
Maximising uptake of Insigneo's technologies with strategic industrial partnerships and membership of Insigneo beyond Sheffield.
Clinical translation is at the heart of Insigneo's vision and close collaboration between clinicians and researchers is key to achieving this. The Insigneo Institute is a partnership between academics and clinical researchers which provides an exceptional mix of insights and resources. 
Research themes: