Membership of the Insigneo Institute for in silico Medicine brings access to an interdisciplinary research community of over 280 academics, researchers and clinicians.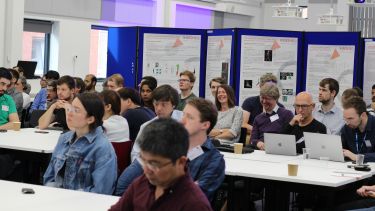 The research community includes members from:
The University of Sheffield's faculties of Engineering; Medicine, Dentistry and Health; and Science
Sheffield Teaching Hospitals NHS Foundation Trust
Sheffield Children's NHS Foundation Trust
Membership benefits
The benefits of membership include:
HPC access/support
Software licenses
Clinical and research space
Commercialisation advice and support for Medtech research translation
Summer research programme
Communications support
Events
Specific funding calls
Access to Insigneo's High Performance Computing resources 
Best practice in software development and sustainability, technical training/support for Insigneo staff and students, Data Management procedures and infrastructure.
Find out more about the technical resources.
Access to dedicated software licenses
Find out more about the available software. 
Access to Insigneo's clinical and research space at the Northern General and Royal Hallamshire Hospitals
Dedicated space is available on both sites to facilitate clinical data collection and support research activities.
Read more about the spaces available.
Summer Research Programme
An excellent opportunity for PhD students and post-docs to supervise undergraduate students to undertake a computational or experimental project within the Insigneo remit. The project would be hosted in the research group of an Insigneo member. It provides training in project management, recruitment and supervisory experience.
Read more about the Insigneo Summer Research Programme.
Communications support
Promotion of general activities in the Insigneo newsletter and the institute website. Support for events linked to the Insigneo Showcase and Insigneo seminars or workshops.
Events
Insigneo holds two annual events, the Insigneo Showcase and the General Assembly. The Insigneo Showcase provides a focus for Insigneo "friends" from funding agencies, regulatory agencies, industry, other academic groups in UK and worldwide to meet and see first-hand the latest innovations produced by our institute.
The General Assembly provides an open forum for members and researchers to hear from Insigneo's Board of Directors, ask questions and network.
In addition, members have the opportunity to invite and host speakers as part of the Insigneo seminar programme.
Specific funding calls
Opportunities for members and associate members to apply for internal research funding (eg CASE studentships and bridging funds for PhD students/post-docs).