Summer research programme
Each year the Insigneo Institute offers a number of summer placements for undergraduates from the University of Sheffield to undertake a research project within the Institute.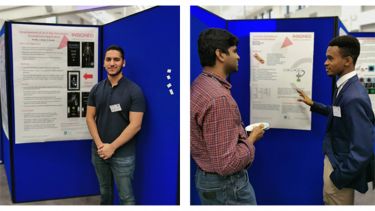 Off
The project is for 8 weeks from June-September (280 hours maximum including 14 hours of preparation, training and reporting). A bursary will be paid.
Students will be supervised by an early career researcher from Insigneo. Students will receive training on experimental and computational projects relating to in silico Medicine. The full eligibility criteria, application form and list of available projects are made available when applications are open.
Students who are registered on an undergraduate degree programme at the University of Sheffield and are currently in the second, third, fourth or fifth year of study are eligible to apply.
Contact us for more information.
Student placement programme case studies
Esmai Jonczyk-Brown, BEng in Bioengineering

Final year student Esmai Jonczyk-Brown took part in the Insigneo Summer Research Programme which is open to undergraduate students at the University of Sheffield.

"I chose an engineering degree as I have always had an affinity for science and maths as well as a keen interest in problem solving. I chose bioengineering specifically as the medical human body focus interested me and has consequently kept me eager and engaged in my studies.

"The range of modules has allowed me to balance of the biology side of my degree with a strong capability in maths and coding. The combination of these life science modules alongside programming, imaging and manufacturing keeps a really interesting dynamic, which all link together nicely to give me a strong baseline of knowledge and understanding.

"The Insigneo summer research scheme was an amazing opportunity, which gave me exposure to top academics and an insight into how research projects are conducted. I worked with Hafsah Akhtar and Dr Gwen Reilly on the topic of bioactive scaffolds for craniofacial bone regeneration.

"This programme gave me a larger insight to lab work and improved my technical knowledge of equipment, cell culture and following protocol. The analysis and assimilation of all the results from various experiments was also imperative to understand the implications of the study and indicated what future direction to take the research in.

"As a self-motivated project I got a lot from the experience through exposure to top researchers and through reading numerous scientific papers and articles. I produced a number of deliverables including a written report and a poster which I presented at the Insigneo general assembly. This gave me opportunity to discuss my work with academics and defend my conclusions where appropriate.

"The experience as a whole has massively improved my confidence moving into third year group projects, where planning research projects, keeping to a schedule and cell culture are huge elements.

"After completing my degree I am unsure whether I wish to continue in research, completing a PhD, or go into a graduate scheme in industry. I hope to stay within the Bioengineering field as I believe that it is a growing sector, with lots of exciting opportunities."

Michael Woodward, BEng in Bioengineering with a Year in Industry

In the summer of 2017, sixteen undergraduate students took part in the second Insigneo Student Placement Programme.

The projects they undertook, individually supervised by an Insigneo PhD student or Researcher, were for 12 weeks and included in silico projects on data modelling, developing data mining tools and finite element simulations. The students attended the Insigneo Showcase held at the Octagon and presented posters at the end of the summer.

One of the students taking part – Michael Woodward – was undertaking a BEng in Bioengineering with a Year in Industry when he applied for the Insigneo Summer Placement. He worked with Insigneo Researcher Erica Montefiori and PhD student Giuliano Lamberto producing computer models from a modelling pipeline including full lower limb segmentation.

After the Placement ended, Michael was offered the opportunity of working at the Insigneo Institute for the "Year in Industry" part of his degree.

Michael worked on the EPSRC funded Multisim project as a Research Support Assistant in the team managed by Dr Claudia Mazzà learning about different aspects of in silico medicine.

Michael spent time in the lab demonstrating for open days and presented at the Multisim review and the British Conference of Undergraduate Research.

Michael joined Insigneo for a summer placement. He immediately proved to be enthusiastic and motivated and despite the short time he gave a significant contribution to the development of the project he was assigned to.

I was particularly impressed by the quality of his final presentation of the work done. When he asked me whether he could spend his placement working with us, I had no doubts in assigning him a role within the Multisim project.

He is a great member of the team and given his skills and attitude I sincerely hope he will decide to pursue a career in research at the end of his studies

Dr Claudia Mazzà

 After his industrial placement ended, Michael returned to the third year of his degree. He hopes to return to Insigneo at some point in the future and would also like to be more involved in data collection in a clinical setting in the future.

My time at Insigneo was a fantastic chance for me to see and be a part of some of the research at the forefront of in silico medicine.

I settled in well there and was able to open so many new opportunities for myself from being involved in projects and papers, conferences and seminars.

I went back to my final year with a new perspective of the field and the world of academia.

Michael Woodward
---
Find a PhD
Search for PhD opportunities at Sheffield and be part of our world-leading research.