Insigneo Summer Research Programme Posters 2022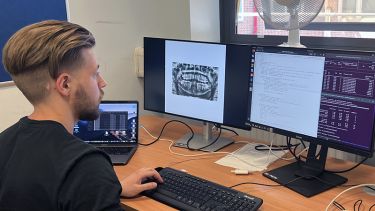 The Insigneo Summer Research Programme 2022 took place from June to September. We hosted placements for 10 University of Sheffield undergraduates to undertake a research project within the Institute each led by one of our Early Career Researchers. Projects were on a wide variety of topics related to our five research themes and students enjoyed being able to participate both on campus and remotely. 
We are very proud to present their hard work on our website.
Find out more about the programme
How do mutations give rise to
neuroblastoma cancer stem cells?

Supervisor: Kenneth Wertheim

Placement student: Alvaro Andre Yupanqui Rivera

"I am Alvaro and I am a Bioengineering student, following the biomanufacturing stream at the University of Sheffield. I completed the first three years of my Bioengineering program at the university this July. Now, I have just started my integrated master's degree in Biomanufacturing Engineering at the University of Sheffield.

"I chose to undertake this summer internship programme to gain further research experience as well as to improve my programming skills. Likewise, I took this as an excellent opportunity to explore a new and very interesting research area to me. Even though my specialization field was not related to programming, I believe that being able to code and analyse data is a fundamental skill for engineers.

"This summer placement significantly improved my skills to program in Python, as well as my ability to use not only biological research papers but computational too. My data analysis skills and graph theory knowledge were also improved. I am very thankful for the opportunity given during the summer."

Dr Kenneth Y Wertheim

Dr Kenneth Y. Wertheim works at the confluence of mathematical modelling, scientific computing, systems biology, computational medicine, and chemical engineering. The unifying theme is emergence: the process by which a complex system's components interact to give rise to systems-level phenomena. They enjoy generating large datasets with mechanistic models of biological systems, and using statistical and machine learning methods to gain insights from the data.

They are extremely proud of how much Alvaro learnt and achieved in eight weeks. Starting with limited programming experience, Alvaro became an expert user of pandas in a couple of weeks. At the end of the placement, he was using the Bessemer HPC cluster. Furthermore, Kenneth and Alvaro explored graph theory together, learning to use Tarjan's strongly connected components algorithm to find ergodic sets.

Before Alvaro, they supervised three other Insigneo summer interns. One of them is now a PhD candidate in mathematical biology at the University of Bath. Having researched neuroblastoma for almost four years at Insigneo, Kenneth aspires to launch an independent research career in the foreseeable future. They aim to optimise immunotherapy and other therapies for paediatric cancers.

Deep Learning-based methods for automated
radiological detection of jaw lesions

Supervisor: Neda Azarmehr

Placement student: Mateusz Grzybowski

"During this 8-week opportunity, I managed to work on implementing deep learning techniques in the jaw lesion detection context under the supervision of Dr Neda Azarmehr and Dr Ali Khurram. In the beginning, it was quite challenging to keep up with the objectives of the project but thanks to the availability of my supervisors almost anytime during the working days it became much easier to comprehend and complete them. The tasks involved mostly coding which I was familiar with before taking up the project but they challenged my understanding of algorithms and optimal computation which are crucial in any project involving artificial intelligence.

"Starting from the beginning, I had to find a way to remove blank backgrounds from radiographs which was an artefact of image generation. Moreover, simple cropping caused a shift in ground truth masks and bounding boxes so it was substantial to come up with a solution to shift them back to their rightful place on an image. In essence, I had to take the coordinates of the left top corner of the cropped image which values were used to be subtracted from each corner of a mask and bounding box. Another issue which was solved was the computational time of training the DeepLabV3-ResNet101 model which used to be equal to approximately 11 minutes per epoch. However, after doing an asymptotic analysis, optimising code and applying data parallelism the execution time was reduced to around 5 minutes which stands for around 45% improvement. The other task was to append a classification branch to the aforementioned model in the Pytorch source code. This required a deep understanding of the Python library and object-oriented programming paradigms to implement. At the end of the internship, I managed to develop the upgraded model which apart from segmentation performed labelling
of the radiography images.

"On top of the technical tasks, I had an opportunity to test my soft skills such as communication in both an interdisciplinary and specific manner as well as presentation. Although I still think there is plenty of room for improvement in both of these aspects during this placement, I understood even more how significant is the right choice of words and phrases when describing our ideas.

"I am grateful to be part of this internship and Insigneo in general. I have met many people with huge knowledge of their fields of research who were open to sharing their ideas. The content of this internship exposed me to the subjects which I am highly interested in and are going to be useful for my future career. For instance, programming highly complex models for a sophisticated problems developed my coding skills and understanding of machine learning.

"These are going to be relevant to my career as a machine learning engineer in the computer vision or neurotechnology field. Regarding the soft skills I enhanced, these are handy in any career, because we always have to pursue and convince others of our ideas. If someone considered commencing a summer project with Insigneo, I would undoubtedly recommend it."

Interpenetrating Network of
Conductive Hydrogel

Supervisor: Arua Da Silva

Placement student: Jinfei Du

"This project has been a valuable experience for myself as it has enabled me to work closely under the supervision of an excellent researcher. The project focused on some extension work to the existing papers within the group, which piqued my interest and showed me the prospects for research on conductive hydrogels in the direction of biomaterials. It also helped me to have a real awareness of how to build bridges between chemistry and biology applications. I found Dr Arua Da Silva to be an excellent supervisor in terms of how challenging it was to work on everything from research methods to experimental manipulation to generalising the findings. In addition to this, the project has also enhanced my research skills, broadening my knowledge of the literature and research topics in the relevant fields, as well as improving my skills in relation to research presentations."

The effect of spatial resolution and on accuracy
and precision errors: A comparative study using
elastic image registration.

Supervisor: Stamatina Moraiti

Placement student: Emily Offin

"My name is Emily Offin. I am an undergraduate Bioengineering student and have just finished my second year. I was motivated to work on a project where I could see the real-world implications of the research I would be doing. The project with Stamatina Moraiti, greatly interested me as it involved applying computational methods to investigate and further the research on osteoporosis treatments, an exciting area of study.  

"Through this placement, I gained skills and insight into the challenges that come with research.  Before this project I had some experience in MATLAB, however, I had never used it in a real-world context and the opportunity to do so has been invaluable.  Other skills I developed over the course of this placement were research and analysis, statistical analysis, data analytics and scientific communication.  I am confident the skills and experiences I gained this summer will be vital for my professional development and help me greatly in the future."

Stamatina Moraiti

"The Insigneo Summer Placement has been a great opportunity to discover the academic career path while introducing students into research.

"Emily joined in the Insigneo Summer Programme in July. She was smoothly introduced to the project, and she immediately proved her enthusiasm for it. The collaboration with her was fruitful, with a significant contribution to the development of my PhD research. The new outcomes gave me the motivation for further investigation. The opportunity to share your scientific interests with someone keen and passionate to learn is a major benefit of this placement. Thank you very much to Emily for her engagement to the project and her positive attitude.

"My participation in the placement has given me the opportunity to explore the spectrum of the academic role from seeking a grant funding, interviewing to supervising and managing a project. Supervising, Emily enhanced my tutoring skills on delivering the information in a sufficient and clear manner. 

"Overall, the Insigneo Summer Programme was a great experience that I hope to be involved in again next year."

Design and construction of an instrumentation pack for the ring vortex complex flow phantom

Supervisor: Alana Matthews

Placement student: Noora Alsaleis

"Hi, I'm Noora Alsaleis. I'm going to my third and final year in electronic and electrical engineering.

"I have taken part in the Insigneo Summer Research Programme. This opportunity has helped me boost my Matlab skills, along with building electronic circuits. 

"The work and effort I have been putting in made me explore my capabilities and skills as I was constantly challenging myself. It was a rewarding experience as I feel more confident in the area I have been working on and I have had a great time while gradually becoming better at work."

A digital reconstruction of the dermal-epidermal
junction (DEJ) of the skin in three dimensions

Supervisor: Mina Aleemardani

Placement student: Riya Chauhan

"During the Insigneo Research placement I worked alongside my supervisor to digitally reconstruct the dermal-epidermal junction (DEJ) of the skin in three dimensions. Insigneo has been a unique and inspiring experience, an opportunity to work on something novel. As a result I have further developed my and SLA 3D printing and CAD skills; I am now able to build complex structures with functions. In addition to this, I have learnt the basics of amira software and how to output a 3D printable .stl file from a set of chronologically ordered OCT images. 

"My supervisor, Mina Aleemardani provided much insight into the role of a PhD researcher and shared in-depth knowledge on laboratory techniques and tissue engineering. Furthermore, I have learnt more on the skills and patience required for the constant problem solving involved within research and to diligently document every step of your research. Overall I feel I have achieved a greater understanding of a research position, laboratory protocol and amazing insight into cell culture. In the future I hope to continue working alongside Mina to further investigate the effects of the designed physical topographies and dimensions during cell culture."

Mina Aleemardani

"It was an excellent experience to work on the Insigneo Summer Research Project. It was my first time acting as a primary supervisor for a student, and I found it rewarding and challenging at the same time. I enjoyed the opportunity to apply for funding, select a student who would be best suited to the project, and plan the project as a whole. While working at Insigneo, I developed communication and organisation skills since I had to take care of my work and supervise students. I gained confidence from teaching my student about the research and its background as a supervisor. This was an excellent experience that I would recommend to any PhD students!"

Comparative study of a dynamic seeding
method and osteogenic supplementation
in Mesenchymal Stem Cells

Supervisor: Areli Munive Olarte

Placement student: Ilona Bognar

Areli Munive Olarte

"I enjoyed supervising and teaching Ilona the research skills and knowledge I have gained. Ilona's interest in the topic opened the opportunity to explore new methods and get more data. Consequently, the project produced fascinating results that I will continue developing. This experience challenged me to better plan my experiments and reaffirmed my motivation and passion for my subject and research."

Development of a soft robotics implant for Short Bowel Syndrome

Supervisor: Canberk Sozer

Placement student: Mafazul Huda Muhammad Syed

Functionalizing Soft Sensors for Collection of
Biometric Data in Motor Neurone Disease

Supervisor: Nicholas Hagis

Placement student: Shrinka Mukherjee

Improving the performance in AI-driven
analysis of hyperpolarized-gas MR images

Supervisor: Alberto Biancardi

Placement student: Salma Hassan

"I believe taking part in the Insigneo summer research placement has improved my skills in Python and also helped me gain a deeper understanding of deep learning. At the start of the placement there was a steep learning curve where I had to do a lot of research and self learning in order to properly tackle the specific task I had chosen. After that I was then able to propose methods and actually implement my plan which I found thoroughly interesting and fun.  I also think taking part in this research placement has given me relevant and essential background knowledge to do my dissertation and I feel more prepared going into my third year."