Insigneo Summer Research Programme Posters 2021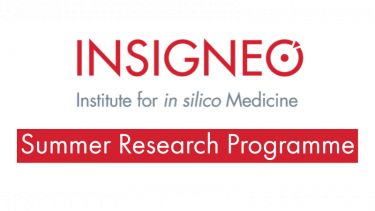 Under normal circumstances our placement students would have the opportunity to display a poster at the Insigneo General Assembly. As this event is took place online again we are very proud to present their hard work on our website.
Find out more about the programme
Summer Research Programme 2021 Posters
Can ultrasound imaging be a suitable alternative to MRI for building personalized musculoskeletal models?

Supervisor: Erica Montefiori

Placement student: Movin Wijayananda

"I completed my BEng in Aerospace Engineering this July. My final year project involved the application of model-based reinforcement learning for the control of musculoskeletal systems. My final year project prompted me to apply for this Insigneo Summer Research Placement and explore musculoskeletal modelling further.

"My project primarily involved preparing and processing data in order to build musculoskeletal models of the lower limbs. This is part of a broader project which focuses on assessing the feasibility of using US to build MSKMs, thereby reducing the dependency on MRI.

"Since I lacked a formal bioengineering background, it was both challenging and exciting to work independently to learn more on this topic. Over the course of this placement, I have developed competency in various software and tools used for musculoskeletal modelling. Further, I also gained hands-on experience in conducting motion capture experiments at the Insigneo Motion Capture and Virtual Reality Laboratory. I am confident, that the skills developed during this project will be valuable for my future.

"Conclusively, I would like to whole thank my supervisor for the support and guidance provided throughout the project."

Modelling the apparent optical birefringence of the female cervix

Supervisor: Wei Li

Placement student: Tu Gong

"I'm Tu, and I am in my final year of Beng in electronics and computer engineering. The objective of undertaking this placement was I want to exercise my practical abilities like coding. This placement also deepens my understanding of the acquired knowledge.

"I have understood how to do the systematic review, understand a complex code efficiently, and find the information I needed in the documentation.

"This Insigneo programme provides me with an excellent opportunity to learn and work with the professor and inspires me to study more profoundly in my future life."

Autonomous Tumour Cell Classification from Texture analysis of the Spatial organisation of the Intracellular Cytoskeleton in Confocal images

Supervisor: Scott Notley

Placement student: Markos Saviidis

"Throughout the summer, this project has been an invaluable lesson to myself, as it allowed me to work closely with a member of staff. It was a brief introduction into the world of research that piqued my interested and showed me a possibility of how my time after university might look, should I choose to pursue a career in research. It also helped me realise the significance of communication between different disciplines.

"I found out how it is to work in a professional environment with the supervision of Dr. Scott Notley, who was an excellent mentor, and how challenging it is to actually get to the part of research where results start to appear (and make sense). Obviously, this project cultivated both interpersonal and intrapersonal skills in a practical aspect instead of an academic one.

"All in all, this internship was an extremely positive experience and the perfect introduction into the world of research and the benefits/challenges it may include."

Dr Scott Notley

Over my own career I have been fortunate to have had excellent mentors to whom I am indebted.

I felt that the success of this project depended on two criteria. The first being the meeting of the ambitious project aims, within the 10-week period, in which Markos proved to excel. The second was on a personal level where I wished to pass on some of my experience of the scientific method to Markos, that would stand him in good stead for his future career. In terms of these two criteria, I feel the project was a great success and personally I found the experience extremely positive and enjoyable.

Preterm Birth Prediction: Association of Cervical Electrical Impedance Spectroscopy and Cervicovaginal Metabolite Composition of Women at High-risk

Supervisor: David Tian

Placement student:  William Holt

"I had the opportunity to work with the Insigneo institute on trying to predict preterm birth with the use of different biomarkers. I was under the supervision of Dr David Tian during the project, helping me every time I had some doubts about the work. I learned about the subject of premature birth through papers published by Prof. Dilly Anumba's research team. I gained valuable insight into how different hypothesis testing techniques can be used in preterm birth prediction. I was also shown how machine learning can serve as an aid in data analysis, making work a lot more efficient.

"I am happy to think that we found support at the end of the project for some biomarkers having a predictability potential. Since I had to meet up every week to present my results, I believe I gained more confidence at the time of presenting my own work. All in all, I gained a myriad of attributes that will help me a lot in my future career path."

Design and Construction of an Instrumentation Pack for the Ring Vortex Complex Flow Phantom

Supervisor: Alana Matthews

Placement student:  Kelvin Simatwo

"My name is Kelvin Simatwo and I have just finished my final year in electrical and electronic engineering. I applied for the Insigneo Summer Research Programme because I wanted to apply my engineering skills in a medical environment, as well as develop my programming skills further.

"In this programme, I have gained high competency in problem solving, programming in MATLAB, 3D modelling and printing as well as circuit design and construction. It was such an exciting environment to work in, and I thank my supervisor for her guidance and support."

Alana Matthews:

The Insigneo Summer Research Project was a really positive experience. This was my first opportunity to act as primary supervisor for a student, and I found it a challenging yet rewarding 10 weeks. The opportunity to apply for funding, select a student who was best suited to the work and plan the project as a whole was unique, and enjoyable. In terms of skills developed throughout Insigneo, my communication improved rapidly, as I was supervising a student from a different academic background to myself, and my organisation also improved, as I had to make time for both my own work and supervision responsibilities. Finally, my confidence improved from acting as supervisor, as I taught my student about the research and its background. Overall, the experience was a great one and I would recommend it to any PhD students considering it!

What is the impact of stenting on coronary physiological parameters: a computational study

Supervisor: Rebecca Gosling

Placement student: William Clark

"I'm William Clark, and I am in my fourth year of MEng in Bioengineering with a Year in Industry.

"I took part in the Insigneo placement to further my knowledge and experience in silico solutions to medical issues. I was intrigued by the application of digital engineering models in the field of interventional cardiology.

"The placement gave me great insight in how engineering solutions can be applied directly to clinical problems; and how the medical and engineering fields can both benefit from interdisciplinary knowledge.

"Having the opportunity to practice and develop my skills learnt from my degree during this placement was crucial in preparing me for my Year in Industry and will be invaluable in pursuing a career in Medical Engineering."

Dr Rebecca Gosling

Rebecca is a NIHR Clinical Lecturer in Cardiology with an interest in modelling coronary blood flow and cardiac imaging.

Rebecca joined the university and the Insigneo Institute for in silico Medicine in 2014 as an academic clinical fellow and was subsequently awarded a British Heart Foundation clinical research training fellowship to undertake her PhD in the application of in silico modelling techniques in patients with coronary artery disease, which she was awarded in 2020.

On the placement, she said "I really enjoyed supervising Will on the Insigneo summer placement scheme and the project has produced some fascinating results that will certainly lead to further studies. As a clinician, it was great to have the opportunity to work with a student with an engineering background as he brought a lot of valuable skills to the team. The summer placement scheme is a great way to facilitate these cross-faculty collaborations and I hope to continue to work with Will in the future."

Large-scale stability analysis of the p53-MDM2- ARF axis in neuroblastoma

Supervisor: Kenneth Wertheim

Placement student: Rory Deignan

"I'm an undergraduate Theoretical Physics student at the University of Sheffield, with a particular interest in non-linear dynamics and the emerging field of pattern science.

"I was very motivated towards the genetic modelling project as it reflected these interests very well, and served as a brilliant opportunity to become more acquainted with the theory and practicality of the subject.

"I hope to continue working with ideas like chaos theory and nonlinearity in the future as they can be made applicable to a plethora of other topics, from other biological systems to modelling plasma turbulence in cutting edge nuclear fusion research.

"Alongside the theoretical knowledge I've acquired with Insigneo, the human experience of being a part of the scientific process has been invaluable."

Dr Kenneth Y. Wertheim

Dr Kenneth Y. Wertheim is interested in complex systems, especially biological ones. He leverages his expertise in mathematical modelling and scientific computing to predict emergent behaviours for biological systems. At Insigneo, he is working on the very first multicellular model of neuroblastoma. In the past, he has studied diverse topics in the life sciences, such as lymphangiogenesis and T helper cells. He is also concerned about social justice in education. He serves on the EDI committee of the Department of Computer Science.

Capturing real-world walking speed in a lab-based protocol: validation in younger and older healthy adults

Supervisor: Kirsty Scott

Placement student: Lok Han Gloria Chan

"Hello I'm Gloria, I recently graduated in MEng Bioengineering on the Biomedical Engineering stream at The University of Sheffield this summer. I am very happy and grateful to have had the opportunity to contribute and further develop what I've learned at the Insigneo Summer Research Placement.

"I would like to thank my supervisor, Kirsty Scott. Together we worked on developing a data analysis pipeline to analyse gait outputs from an in-lab protocol of walking tasks as part of the wider Mobilise-D project which works towards developing a validated wearables solution for picking up diseases related to mobility loss in the real-world.

"I really enjoyed the process and developed many new skills including in Matlab data management, R for data analysis and visualisation, as well as stereophotogrammetric software and standardising processes with a GUI (graphical user interface). I am very grateful for Insigneo, The University of Sheffield and everyone who has made it possible for the many learning opportunities and a very rewarding experience from sparking my interest in Bioengineering to being able to study Bioengineering and now to further develop these skills, and I look forward to seeing future developments of this work."

Kirsty Scott

The Insigneo Summer Placement has been a great opportunity to introduce students into research while incorporating the development of postgraduate researchers in the position of a supervisor role.

From the initial application process, student selection and running of the placement. I have been given the opportunity to explore areas of an academic role such as grant funding, interviews, and first-hand supervision. I found this overall an extremely beneficial experience for my personal growth into an academic career.

The opportunity to share your research and interests with someone who has a passion to learn more can only be considered a major bonus and has given me the opportunity to explore areas of my work that have now evolved into sound objectives for the continuation of my research. Thank you very much to Gloria for her dedication to this placement.

Multi-modal deformable image registration for quantitative assessment of radiation-induced ventilation and perfusion changes in lung cancer patients

 Supervisor: Bilal Tahir

Placement student: Jack Atkinson

Developing a preprocessing pipeline to enable contact analysis in a novel finite element analysis solver

 Supervisor: Frederik Trommer

Placement student: Elisha Gretton
Flagship institutes
The University's four flagship institutes bring together our key strengths to tackle global issues, turning interdisciplinary and translational research into real-world solutions.