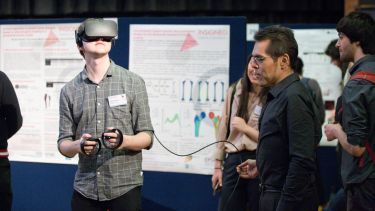 The Insigneo Institute for in silico Medicine is a research institute established as a collaborative initiative between the University of Sheffield and Sheffield Teaching Hospital NHS Foundation Trust. We develop sophisticated computer simulations of human physiology, in health and disease, in order to improve clinical diagnosis and treatment.
With a multi-disciplinary membership of over 150 academics and clinicians, Insigneo is Europe's largest centre dedicated to these activities, in the emerging discipline known as in silico medicine.
The Insigneo Showcase provides an opportunity once a year to meet up and see first-hand the latest innovations in personalised, predictive medicine produced by our institute.
Professor Koen Lamberts, President and Vice-Chancellor of the University of Sheffield opened the event. He spoke highly of the institute's ambitions and commitment to excellence demonstrated in the quality of the results of the institute's research which is contributing to the development of innovative health technologies. He also praised the collaborative, interdisciplinary relationship developed with the Sheffield Teaching Hospitals NHS Trust which is leading clinical translation.
Our plenary speaker Professor Liesbet Geris, President of the Virtual Physiological Human Institute and Professor of Computational Tissue Engineering at the University of Liège provided an inspiring start to the day with her talk on 'From data to knowledge using in silico technologies: examples from regenerative medicine'.
This year our morning session was dedicated to our Early Career Researchers who delivered powerpitch presentations giving an insight into the broader range of the institute's research. We are exceptionally proud of the quality of the presentations on the day and recognise how much our younger members contribute to the life of the institute.
The afternoon session, opened by Dr David Hughes, Medical Director of the Sheffield Teaching Hospitals NHS Foundation Trust, was divided into two themes with talks from our members in the faculties of Engineering; Medicine, Dentistry and Health; and Science:
The role of medical imaging in in silico medicine
Mathematical approaches in in silico medicine
We would like to say a big thank you to all those who attended, particularly the speakers, our researchers and students who presented posters and our industrial partners for their support and contribution to the showcase exhibition which highlights the latest commercial applications of in silico medicine.
Events at the University
Browse upcoming public lectures, exhibitions, family events, concerts, shows and festivals across the University.