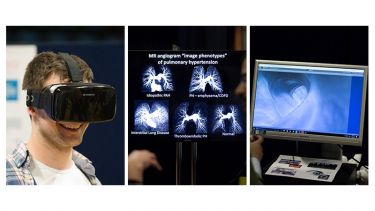 It was an opportunity for all Insigneo "friends" from funding agencies, regulatory agencies, industry, other academic groups in the UK and worldwide to meet and see first-hand the latest innovations produced by our institute.
The Insigneo Institute for in silico Medicine is a research institute established as a collaborative initiative between the University of Sheffield and Sheffield Teaching Hospital NHS Foundation Trust. We develop sophisticated computer simulations of human physiology, in health and disease, in order to improve clinical diagnosis and treatment.
With a multi-disciplinary membership of over 140 academics and clinicians, Insigneo is Europe's largest centre dedicated to these activities, in the emerging discipline known as in silico medicine.
This year we were delighted to have as our keynote speaker Professor Dame Pamela Shaw, Director of the NIHR Biomedical Research Centre (BRC). She presented the research of the BRC, and explained how the application of in silico medicine technologies will contribute to research into interventions for neurodegenerative diseases.
The day featured:
Talks covering the full scope of our research, from fundamental science to translation and from clinical implementation to industrial development.
An Industrial Village showcasing in silico medicine's latest commercial applications and developments from our industrial partners.
Networking opportunities and one-to-one discussions with funders, academics and clinicians.
Last year's event attracted over 200 participants across all of healthcare.
---
The Showcase offers specific opportunities for:
Fellow academics
Come and see how our research can complement your own work, and identify potential collaborations with our modellers, clinicians, physicists, mathematicians and engineers.
Clinicians
Understand the potential impact of in silico medicine in your speciality. Our focus on clinical translation provides a unique opportunity to experience how in silico medicine has the potential to support diagnostics, assessments and treatments in your area of medicine.
We can actively support you in discussing your diagnostic and treatment challenges, and facilitate meetings on the day with Insigneo research staff and our guest funders. Make a note in the comments section of the registration form.
Funders
We'd like to offer you the opportunity to join our exhibition area to promote your funding opportunities and engage with researchers.
We can facilitate one-to-one discussions, with break-out rooms available for individual and group discussions. Make a note in the comments section of the registration form.
Patient groups
Our Institute is a collaboration between academics and clinicians, with a multi-disciplinary membership of over 140, focusing on understanding health and disease.
Come with questions and enthusiasm to discuss your areas of interest with our researchers.
Researchers
We invite you to submit an abstract for our poster display and competition by 1 April 2018. Submissions are peer-reviewed by the Insigneo Showcase Scientific Committee and a prize awarded for the best poster.
We are keen to represent a wide range of Insigneo's research areas. We also welcome abstracts from other departments and external researchers in the area of in silico medicine.
Events at the University
Browse upcoming public lectures, exhibitions, family events, concerts, shows and festivals across the University.