Sheffield Children's NHS Foundation Trust partnership with the Insigneo Institute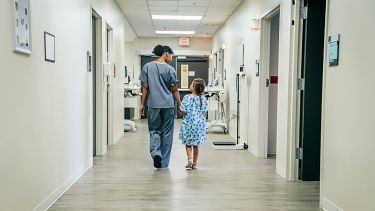 Sheffield Children's NHS Foundation Trust has joined the University of Sheffield's Insigneo Institute for in silico Medicine as a partner. This will bring opportunities for closer collaboration and the application of Insigneo's computational 'in silico' and innovative technological approaches to child health challenges.
The Insigneo Institute was established as a partnership between the University of Sheffield and Sheffield Teaching Hospitals NHS Foundation Trust but also has a long history of collaborative work with Sheffield Children's NHS Foundation Trust. This includes the co-management of the EOS Imaging System which is located at Sheffield Children's Hospital and allows collaborative research to improve the diagnosis and treatments of musculoskeletal diseases in children and adults.
The Institute has recently widened its research focus to technological approaches that are relevant to all modern healthcare challenges and sectors.  This presents the perfect time to strengthen the relationship with Sheffield Children's and look at new applications for the expertise the Institute has built.
Sheffield Children's hosts the NIHR (National Institute for Health and Care Research) Children & Young People MedTech Cooperative (NIHR CYP MedTech), funded by the NIHR from 2018 to support the development, evaluation and adoption of child health technology. Sheffield Children's Hospital leads a consortium of seven centres leading on child health technology development across multiple specialty domains.
Ongoing work led and supported by NIHR CYP MedTech includes the development of digital platforms, immersive technology to support patient care and rehabilitation, robotics to support children in hospital settings and the use of artificial intelligence for earlier diagnosis.
Given the synergies between the work of Insigneo and NIHR CYP MedTech, there is clear opportunity to support technology development that will advance the healthcare of children and young people.
Find out more about NIHR CYP MedTech: www.cypmedtech.nihr.ac.uk
Child Health Technology Conference (CHT2022), 11 – 12 May 2022
CHT2022 is being organised by NIHR CYP MedTech, Marketing Sheffield, Event Management Direct, and TechNative. The Child Health Technology conference was founded by NIHR Children and Young People MedTech Co-operative (NIHR CYP MedTech).
Last year, delegates from 16 countries across the globe attended CHT2021 demonstrating the potential to drive international collaboration to support the development of the very best and most advanced health technology for children and young people.
This year the theme 'Global Child Health Technology' has been chosen to reach out to colleagues from around the world to increase the reach of the child health technology community. The enhanced virtual platform will ensure that like-minded colleagues from across the continents can interact.
At CHT2022 you will see the latest technologies from across the world, inspirational talks from leaders in the field, and seminars on key themes and interviews with key opinion leaders and child heath technology experts. CHT2022 will also host technology demonstrations, lively interactive debates, and Q&A sessions.
The exciting field of child health technology is growing at pace. Come to CHT2022 and become part of the global child health tech community.
Find out more and register: https://cypmedtech.nihr.ac.uk/child-health-technology/
Flagship institutes
The University's four flagship institutes bring together our key strengths to tackle global issues, turning interdisciplinary and translational research into real-world solutions.