After a break away from studying, you may be feeling a little rusty and be worried about the maths and stats you will encounter as part of your course. To help you get a head start, we've created this page which contains everything you need to revise key topics.
If you'd like to work on your academic skills more generally, visit the 301 Academic Skills Centre.
---
Getting good at maths and stats is a matter of practising skills, like learning an instrument or a sport. Many people focus on the first step: learning the methods, without moving on to the next step: consolidation through practice. If this sounds familiar, or if you've had other problems learning maths in the past, don't panic! We're here to help!
Effective methods for learning mathematics follow the Cycle of Practice
Stage 1: Test yourself
Can you solve questions at the required level? Don't allow yourself to use notes or look things up.  Make sure you actually do the questions, don't just look at the answers and convince yourself you could have done the question.
If you got the questions right, have you Practiced to the point where you won't forget the topic? If so, great! It might be time to move on to a new topic. 
If you got some questions wrong, that's fine, now you know what you need to work on. Move on to stage 2.
Stage 2: Refresh your knowledge
Consider whether you once knew how to do the questions and you've forgotten, or whether this topic is new. Can you recall the key points in the method? If you need an explanation of how to do the topic, the resources on this page will help you. Alternatively, you could look for a video or written explanation online. It might help to write your own notes.  If you've tried this and it hasn't helped, consider booking a MASH 1:1 session. There are links at the bottom of this page.
Stage 3: Practice, practice, practice!
Next, you need to find a source of practice questions. The resources on this page should help here as we have created some that are relevant to each topic. Other exercises can be found online or in textbooks. There are links to some other resources at the bottom of this page. To embed a method in your mind you need to apply it repeatedly. You might need to use your notes or go back to the explanation. You know you've done enough when you feel like you would be able to do the questions without help in a month's time. Now it's time to go back to Stage 1 and test yourself. Ideally, you would do this after a day or two, to be sure that you have understood the method.
Don't forget that if you would like some additional support, you can always book an appointment to speak with one of our friendly advisers. We're here to help all students on all courses at all levels of study. 
---
---
---
---
The Jumpstart University hub has been developed by The Open University in collaboration with the Russell Group to help students starting university this year to prepare for and settle into their studies. Below are links to the maths and stat resources.
Succeed with Maths - Part 1
Does maths feel like a bit of a mystery to you? Are you looking to improve your confidence in using maths in a variety of everyday situations? If so, this course is for you.
Beginning with the very foundations of maths, it will start by looking at how numbers are put together, before guiding you through how to use percentages, fractions and negative numbers. Taking real-life examples you will have the opportunity to Practice your new skills and build your confidence in using maths to solve problems in everyday life and the wider world.
This course will encourage you to not just mechanically follow the rules that are written to help with maths, but to also gain an understanding and appreciation of what lies behind these rules.
Succeed with Maths - Part 2
Following on from the course above, this course will continue to develop your mathematical knowledge and skills using everyday examples.
It will guide you through measurement, scientific notation (based upon powers of 10) and roots of numbers, shapes and how to calculate their properties before finally turning to how to construct and read from tables, charts and graphs.
It provides a solid foundation for you to continue with studies in any subject which requires some degree of mathematical knowledge.
Mathematics for science and technology
Maths is intimately entwined with science and technology, whether it is used to analyse data collected on plants in the Amazon rainforest, to calculate the trajectory of a comet or design a bridge to connect two countries. This means that science and technology go hand-in-hand with maths, and that a firm grasp of maths is crucial for studying any science and technology discipline.
This course will help you build a stronger grip with the maths helping hand. You'll learn about the power of algebra, get a sense of scientific notation, the beauty of basic trigonometry and why 70 db (decibels) is 10 times more powerful than 60 db. As well as this you will delve into scientific measurement, including the importance of units and the flexibility and practically of the SI – the internationally recognised system of units based on multiples of ten.
Medical statistics
This course is concerned with some of the statistical methods used in epidemiology and more widely in medical statistics.
Section 1 introduces cohort studies in which individuals are classified according to their exposure and followed forward in time to evaluate disease outcomes.
Section 2 looks at models for cohort studies.
Section 3 introduces case-control studies in which individuals are selected according to their disease status and past exposures are then ascertained.
Section 4 covers testing for no association in cohort studies and case-control studies.
---
And last, but by no means least, if the thought of maths and stats makes you feel anxious, you are not alone: over 80% of students have some form of maths anxiety. Why not take a look at our maths anxiety page. It contains an online resource for you to work through to help you address this. We also run workshops on maths anxiety and there is a link to the workshop page as well.
---
We are constantly working to improve and add to these resources. If you have any suggestions or feedback, let us know.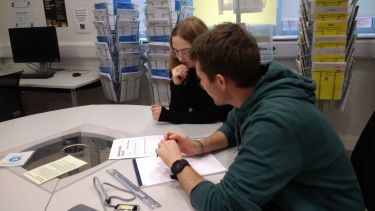 Book a 1:1 appointment or workshop
Would you like to explore a maths or stats topic in greater depth? Why not book a 1:1 with an advisor or a workshop (current students only).