Help Engineers Learn Mathematics (HELM) workbooks
HELM (Helping Engineers Learn Mathematics) Workbooks have been developed to assist engineering students to learn the mathematics and statistics that they will need at university.
---
1. Basic algebra

2. Basic functions

3. Equations, inequalities and partial fractions

4. Trigonometry

5. Functions and modelling

6. Exponential and logarithmic functions

7. Matrices

8. Matric solutions of equations

9. Vectors

10. Complex Numbers

11. Differentiation

12. Applications of Differentiation

13. Integration

14. Applications of Integration 1

15. Applications of Integration 2

16. Sequences and Series

17. Conics and Polar Coordinates

18. Functions of Several Variables

19. Differential Equations

20. Laplace Transforms

21. z-Transforms

22. Eigenvalues and Eigenvectors

23. Fourier Series

24. Fourier Transforms

25. Partial Differential Equations

26. Functions of a Complex Variable

27. Multiple Integration

28. Differential Vector Calculus

29. Integral Vector Calculus

30. Introduction to Numerical Methods

31.Numerical Methods of Approximation

32. Numerical Initial Value Problems

33. Numerical Boundary Problems

34. Modelling Motion

35. Sets and Probability

36. Descriptive Statistics

37. Discrete Probability Distributions

38. Continuous Probability Distributions

39. The Normal Distribution

40. Sampling Distributions and Estimation

41. Hypothesis Testing

42. Goodness of Fit and Contingency Tables

43. Regression and Correlation

44. Analysis of Variance

45. Non-parametric Statistics

46. Reliability and Quality Control

47. Mathematics and Physics Miscellany

48. Engineering Case Studies

49. Student's Guide

50. Tutor's Guide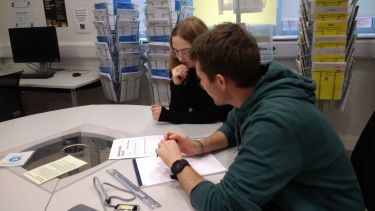 Book a 1:1 appointment or workshop
Would you like to explore a maths or stats topic in greater depth? Why not book a 1:1 with an advisor or a workshop (current students only).
A world top-100 university
We're a world top-100 university renowned for the excellence, impact and distinctiveness of our research-led learning and teaching.