Human Communication Sciences community clinic
We run a few initiatives in Human Communication Sciences that allow students to deliver a service to the wider community, contributing to their learning experience.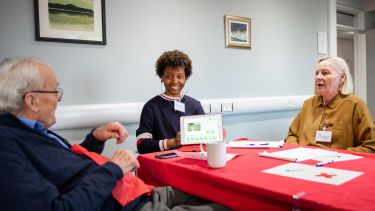 The Phillipa Cottam Communication Clinic
The Phillipa Cottam Communication Clinic is run by staff and students and is situated within the Human Communication Sciences building. It operates as a speech and language therapy clinic and offers services to both children and adults with communication disabilities. This happens alongside a large amount of research, particularly in the field of neurological disorders of communication, that takes place in the clinic.
Aphasia Centre
Aphasia is an impairment, affecting the production or comprehension of speech and the ability to read or write that comes from injury to the brain, most commonly from a stroke. The Aphasia Centre at located within Human Communication Sciences is co-funded by the Tavistock Trust for Aphasia and by the NHS Clinical Commissioning Group and offers local people who suffer from aphasia help with their communication as well as supporting research into aphasia within the department. Janet and Ruth who run the centre have been awarded the Sternberg Clinical Innovation Award in 2015 thanks to their fantastic work.
Small Talk Group
The Small Talk Group is aimed at parents and carers of children up to 5 years old who have any speech, language or communication need. The group combines group play an individual targeted work with an opportunity for parents to spend time chatting, exchanging ideas and suggestions, and supporting each other. While in the group, children will work with Speech and Language Therapy students, supervised by qualified Speech and Language Therapists within the department.
HCS Dysphagia Picnic - European Swallowing Awareness Day 2017
Dysphagia is the medical term for swallowing difficulties. Some people who suffer from dysphagia have problems swallowing certain foods or liquids, while others cannot swallow at all. Dysphagia can be caused by a wide variety of diseases and undiagnosed can lead to pneumonia, dehydration and malnutrition. The Human Communication Sciences department hosted a Dysphagia picnic to raise awareness around the problem as well as giving advice on diet and ways of swallowing for European Swallowing Awareness Day.
A world top-100 university
We're a world top-100 university renowned for the excellence, impact and distinctiveness of our research-led learning and teaching.