Our partners bring new perspectives to problem solving and discovery. They attend many of our key events, offering hands-on expertise, and support us in using their products.
On
One of our strengths is collaborative research with our industrial partners - we have well-established partnerships with a number of expert software and medical device manufacturers, both in the UK and abroad, which extends our global reach and enhances our input to regional and national activities.
---
Dassault Systèmes SIMULIA applications, including Abaqus, fe-safe, Isight, Tosca and Simulation Lifecycle Management, enable users to leverage physics-based simulation and high-performance computing to explore and improve real-world behaviour of products, nature, and life.
As an integral part of the Dassault Systèmes 3DEXPERIENCE platform, SIMULIA applications accelerate the process of evaluating and improving product performance, reliability and safety before committing to costly and time-consuming physical prototypes.
We help our users meet their business goals, not only with world-leading simulation applications, but also through our global team of engineers who teach, mentor and support them in the use of our applications to reduce time and cost while delivering innovative, game-changing solutions to their customers.
---
As researchers we strive to develop the best possible engineering tools for diagnosis, treatment and prognostic improvement in clinical disease. With SIMULIA we are ensuring that professional software can be effectively and safely deployed in clinic, helping to demonstrate how in silico technologies can bring benefit to clinicians and patients alike.

Professor Damien Lacroix

Director of Research, Insigneo Institute
---
After several years of effective technical collaborations, Dassault Systèmes SIMULIA ("SIMULIA") and the Insigneo Institute for in silico Medicine have established a pioneering partnership for biomedical engineering with a mission of transforming healthcare through the use of realistic simulation and advanced visualisation.
The partnership was formalised by the signing of a memorandum of understanding and is the natural result of the increasingly significant collaboration between Insigneo and SIMULIA to boost joint academic research and provide students with practical experience of the commercial translation of their academic work.
SIMULIA has been a valuable partner of Insigneo since its inception in 2012, providing a high level of technical input, supporting key educational events, and furthering complex research and development.
Signing the agreement on behalf of SIMULIA, Steve Levine, Senior Director of Virtual Human Modeling (VHM) commented:
"This was a natural next step for us, as evidenced by the tremendous success of our collaboration on the MySpine project on patient-specific simulations of the lumbar spine, there are obvious synergies between our organisations.
"We have shown through the Living Heart Project and related virtual human modelling initiatives, our commitment to driving innovation, accelerating the pace of translational science, and enabling entrepreneurs through the 3DEXPERIENCE Lab, we are very much aligned with Insigneo's strategic objectives. Together we have the expertise and necessary ingredients to lead a transformation in the healthcare industry."
Stressing the vital importance of industrial collaboration, Insigneo's Director of Research, Professor Damien Lacroix, warmly welcomed the strengthening of this partnership, heralding a new phase in the translation of in silico medicine into mainstream clinical practice.  
The partnership was formalised by the signing of a memorandum of understanding and is the natural result of the increasingly significant collaboration between Insigneo and SIMULIA to boost joint academic research and provide students with practical experience of the commercial translation of their academic work.
---
With the complexity of medical product innovation increasing and biomedical companies facing severe cost and time constraints, the need for Simulation Driven Product Development (SDPD) is emerging quickly.
Performing virtual product prototyping with Ansys simulation software helps customers visualise and predict flow, structural, acoustic and electromagnetic multiphysics.
Advanced products and procedures that can benefit from virtual prototyping include diagnostic and monitoring systems, artificial joints and organs, cardiovascular stents and pacemakers, surgical tools, catheters, therapy equipment and a wide range of other devices and systems.
To meet continual demand for innovative designs, manufacturers are taking aggressive steps to advance the product development process. Many leading companies today use simulation software from ANSYS to design breakthrough products and systems that improve quality of life and optimise manufacturing.
Additionally, simulation software allows engineers to run large numbers of numerical tests on virtual products, which helps to facilitate the long and costly FDA and governmental approval process.
ANSYS develops, markets and supports engineering simulation software used to foresee how product designs will behave and how manufacturing processes will operate in real-world environments.  
They continually advance simulation solutions by, first, developing or acquiring the very best technology; then integrating it into a unified and customisable simulation platform that allows engineers to efficiently perform complex simulations involving the interaction of multiple physics; and, finally, providing system services to manage simulation processes and data so engineers and product developers can spend more time designing and improving products and less time using software and searching for data.
Engineering simulation is their sole focus. For more than 40 years, they have consistently advanced this technology to meet evolving customer needs.
More than 40,000 customers around the world use ANSYS software. These include 96 of the top 100 industrial companies on the FORTUNE 500 list. Their customers represent a wide range of industries, including aerospace, automotive, electronics,energy, materials and chemical processing, turbomachinery, academia, civil engineering, consumer products, healthcare,sports, and others.
What customers are doing with our technology is impressive: alternative engines for cars, new composite materials with amazing properties, energy-efficient buildings that reduce the carbon footprint, and innovative household appliances with features that go beyond mere improvement, to name just a few. 
---
The Visual Computing Company – For two decades, NVIDIA has pioneered visual computing, the art and science of computer graphics.
With their invention of the GPU — the engine of modern visual computing — the field has expanded to encompass PC games, movie production, product design, medical diagnosis and scientific research. 
Today, visual computing is becoming increasingly central to how people interact with technology. 
---
Simpleware develops industry-leading software solutions and services for the conversion of 3D image data (MRI, CT, Micro-CT…) into high quality CAD, CAE and 3D Printing models.
Simpleware software is being used by engineers and researchers in a variety of fields, including: Life Sciences, Materials Science, Industrial Non-Destructive Testing and Reverse Engineering, Rock Physics, and any other application involving 3D images. 
---
Smith & Nephew is a global medical technology business dedicated to helping improve people's lives.
They have leadership positions in:
Orthopaedics Reconstruction – joint replacement systems for knees, hips and shoulders;
Advanced Wound Management – wound care treatment and prevention products used to treat hard-to-heal wounds;
Sports Medicine – minimally invasive surgery of the joint;
Trauma & Extremities – products that help repair broken bones
They have almost 14,000 employees and a presence in more than 90 countries and are a constituent of the UK's FTSE100.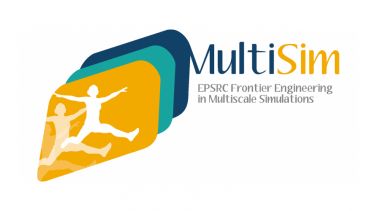 MultiSim Project
Aiming to create a new generation of predictive models capable of handling complex multi-scale and multiphysics problems, characterised by uncertain and incomplete information.