Sheffield is a major student city with a strong sense of community. So many of our students move here and fall in love with Sheffield. They discover a forward-thinking city that's safe, affordable and easy to explore.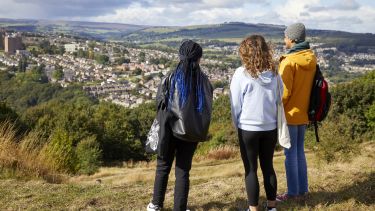 Sheffield has everything you'd expect to find in a major city and more. There are nearly 60,000 students in the city, from all kinds of backgrounds and from every part of the world. We've got all the usual big city attractions - major supermarkets, all your favourite chains and high street shopping - but Sheffield offers so much more than that.
With hundreds of green spaces, a thriving creative arts community, an inclusive multicultural population and hundreds of niche independent shops, our students consider Sheffield an extraordinary place to live and study.  
An affordable city for student life
In Sheffield, student life could cost less than elsewhere. Sheffield is the most affordable student city in the UK according to The Royal Bank of Scotland's Student Living Index 2021.
When your child is away from home and learning to live on a budget, that change from a tenner can make all the difference.
Getting around
Though it's big, Sheffield is pretty easy to get around. You can walk across the city centre, from the train station to our campus, in about 20 minutes. Student bus tickets are just £1. Or students can hop on the tram. We're also in the centre of the UK with fantastic transport links to other major cities.
Sheffield neighbourhoods
Our students love living in areas like Crookes and Broomhill which offer abundant green spaces, cosy cafes and a safe student environment. Our campus is part of the city's fabric. It sits between the city centre and popular student residential areas to the west, Broomhill and Endcliffe.
A safe place to live
Sheffield is one of the safest major cities in the UK. Our university accommodation offers plenty of choices to fit any budget and lifestyle. Wherever your child chooses to live they'll get the same high standard of facilities and support from our dedicated team. We offer safety and security all year round and if they have any problems at all - then there is always someone that they can contact.
Student support
At Sheffield, we pride ourselves on creating an inclusive and supportive community for our students to excel in. Our wellbeing services are there throughout their degree to give them advice on anything from health to finances.
A world-class university – a unique student experience
Sheffield is a research university with a global reputation for excellence. We're a member of the Russell Group: one of the 24 leading UK universities for research and teaching.