Yuhua Wang - digital inclusion
For her research Yuhua is conducting research to better understand the factors that influence digital inclusion for active and healthy ageing among older people.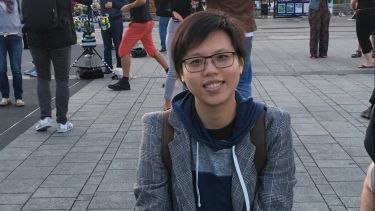 Name: Yuhua Wang
Faculty: Social Sciences
Scholarship: Faculty of Social Sciences Doctoral Academy Award
Tell us about your background and your chosen research project.
I completed my undergraduate study in China and in Germany (exchange programme), after which I worked in the banking sector for 3 years. Prior to joining the University of Sheffield, I studied at UCL for MSc Technology Management (achieved Distinction) and became a certified Project Management Associate (IPMA Level D). I am conducting a PhD research to better understand the factors that influence digital inclusion for active and healthy ageing among older people. This research adopts a mixed methods approach and is expected to make theoretical and practical contributions by developing a framework that adapts and extends existing models on digital divide, and yielding insights on how to improve older people's quality of life with meaningful digital engagement.
Why did you choose to study at Sheffield?
The reason that I left banking in the first place was that I developed interest in understanding the application of technology, mainly in the business sector. I was further drawn into the socio-technical aspects of technological systems, which then turned into something more specific during the completion of my MSc degree – older people's technology adoption and information management in the increasingly ageing society. With this in my mind, I started with some background research and found out about the world-leading Information School in this University, and a potential supervisor (who was very supportive in my application and later became my primary supervisor). Another reason for choosing to study at Sheffield was that I had many friends who were studying in Sheffield as PhDs back then. I visited Sheffield quite often and I heard about, observed, and even experienced studying & researching in this University and liked it. The Peak was also another reason that made me set my mind.
What did winning the scholarship mean to you?
I would not have started this PhD without winning this scholarship. It is not only an award in monetary sense, but also a recognition of the value in my research topic and the social phenomenon that I look at. As such, I feel very fortunate that I won this award and could carry out my research without worrying about finance, whilst being provided a platform with all sorts of support and resource.
It has been a challenging but worthwhile journey

Yuhua Wang

PhD student, Information School
What has your experience of doing a PhD at Sheffield been so far?
It has been a challenging but worthwhile journey. I have made steady progress in my research project with the help of a very supportive supervisory team and other teams who provide professional services. I have developed as a researcher, with continuous trainings that are to my own needs; and as a teacher, with the opportunity to assist with teaching in and beyond my department.
What are your future plans?
I hope to carry on with research, be it in academia or in an organisational setting.
Do you have any advice for future prospective PhD students?
Do spend some time to research and read about the projects in the department that you wish to join, and the potential supervisor that you wish to work with, to see if it (this choice) fits and if it can provide the support that you need in your proposed research.