School of Architecture, Faculty of Social Sciences

Discover the benefits of socially engaged design through research-led design studios and our acclaimed live projects programme.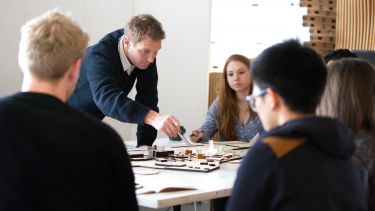 Course description
Your study will be mainly studio based, with design projects each year.
Through our acclaimed live projects programme, you can work with local, regional and international groups on real-life challenges. You could be building and designing urban masterplans or designing in detail.
In our design studios you'll explore current challenges and opportunities in architecture. Initial themes are developed out of the studio leader's research interests and you are encouraged to develop a critical approach to the production of architecture in contemporary society, learning from the past and visioning the future.
To gain your RIBA Part 2 qualification you'll produce at least one comprehensive design project and a dissertation. The degree is currently validated by the Royal Institute of British Architects (RIBA) at Part 2 and prescribed by the Architects Registration Board (ARB).
We are one of the UK's top architecture schools. Our teaching staff are doing world-class research, helping to make the school a leader in our field across the UK and internationally. Through our teaching and research, we explore the social, spatial and environmental implications of architecture. As a Sheffield student you will engage with real issues affecting the built environment.
Validated by the Royal Institute of British Architects (RIBA) at Part 2 and prescribed by the Architects Registration Board (ARB).
Modules
Core modules
Year 1
Design 1 and 2

Live Project 1

Architectural Research Methodologies

Environment and Technology 1

Management and Practice 1

Dissertation 1
Year 2
Modules Design 3 and 4

Live Project 2

Design Manifesto

Environment and Technology 2

Management and Practice 2

Dissertation 2
Optional modules
Choose from a range of optional modules. These might include:
Reflections on Architectural Education
Critical Spatial Theory
Politics of Architecture and Urban Design
Future Climates and Architecture
Building Environmental Simulation and Analysis
Parametric Architectural Geometry
Building Information Modelling, Management and Analysis
Materials for Low Impact Buildings: Theory
Renewable Energy
Conservation and Regeneration Principles and Approaches
Trajectories of Urban Design Practice
Spatial Practice and Development
Participation in Architecture and Urban Design
History and Theory of Urban Design
Teaching
Our design teaching is studio based with several research-led options. Programmes run by specialist staff link together lectures, studio work and research.
Assessment
Each module is assessed individually by coursework. 
Duration
2 years full-time
The freedom to pursue and nurture my own skills and areas of interest is something that was important to me when making my decision to study MArch at Sheffield. The course offers a well-rounded and grounded learning experience, by encouraging originality and creativity that is relevant towards current social issues. Live Projects have been one of the most enjoyable parts of the course. The connection between education and the real world has been invaluable in preparing me for my future career in architecture.

Ashley Mayes
BA and MArch Architecture
Entry requirements
You'll need BA Architecture, 2:1 or equivalent, from a RIBA/ARB-approved institution, along with nine months in practice.
You should have RIBA Part 1 or equivalent.
We will ask to see your design portfolio.
English language requirements
Overall IELTS grade of 6.5 with a minimum of 6.0 in each component, or equivalent.
Find out how to apply on the School of Architecture's website:
The course information set out here may change before you begin, particularly if you are applying significantly in advance of the start date.