Department of Chemistry, Faculty of Science

Learning from our world-leading experts prepares you for a key role in the future of this rapidly developing field.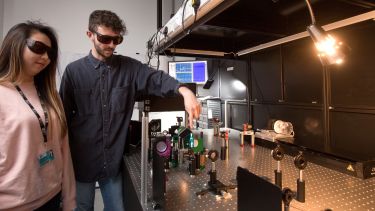 Course description
This course is designed to take you to the next stage of your scientific career. From your undergraduate degree, you will know which areas of chemistry you'd like to specialise in. We've made this masters course flexible so that you can focus on the topics you enjoy and develop the practical skills you need for your chosen career.
To help you develop your specialist knowledge, there are more than 20 different optional lecture topics for you to choose from across organic, inorganic and physical chemistry. In the lab, our researchers will teach you advanced research skills, and you'll spend around one-third of your time working on your own research project. You'll choose the topic and you'll be based in one of our world-class research groups, developing skills and expertise that can help you stand out in the graduate job market.
You'll have access to a number of our multimillion-pound research labs, including the Lord Porter Laser Laboratory, which has three different laser stations, and our Soft Matter Analytical Laboratory, where scientists can study samples that are 100 times smaller than a human hair.
Our graduates are highly valued in the chemical and pharmaceutical sector. They work all over the world for companies including AkzoNobel, Amgen, AstraZeneca, Corus, Dow Chemicals, GSK, Smith and Nephew and Syngenta. Many move on to PhD study, then careers in research or teaching.
Modules
There are two main lecture modules, and each one allows you to pick the topics that most interest you. Current topics range from metals in medicine and enzyme catalysis, to graph theory and quantum chemistry, to polymer architectures and nanochemistry.
You will take part in a research training programme that teaches you how to interpret and evaluate scientific literature, and communicate scientific topics in presentations and posters. Students also complete two practical projects – one on computational chemistry and one on synthetic chemistry.
All of this training gets put into practice when you start your main research project, which will take up around a third of your course. You will choose your own topic, be assigned an academic supervisor who specialises in your area and work in their laboratory as part of a team of scientists.
Topics in Advanced Chemistry 1

Topics in Advanced Chemistry 2

Research and Presentation Skills

Chemistry Projects

Chemistry Research Project
Teaching
We use a mixture of lectures, laboratory practicals, workshops and individual research projects. You may tailor the area of your research project to your particular interests.
Assessment
Assessment of taught modules is through examinations, laboratory reports and coursework. Assessment of the project is through a 15,000-word dissertation and viva.
Duration
1 year full-time
Entry requirements
You need a BSc (Hons) 2:1 or equivalent in chemistry or a chemistry-related subject.
English language requirements
Overall IELTS grade of 6.5 with a minimum of 6.0 in each component, or equivalent.
You can apply for postgraduate study using our Postgraduate Online Application Form. It's a quick and easy process.
The course information set out here may change before you begin, particularly if you are applying significantly in advance of the start date.