Cognitive and Computational Neuroscience
Department of Psychology, Faculty of Science

Working closely with specialist scientists, you'll develop the skills to investigate and understand human behaviour.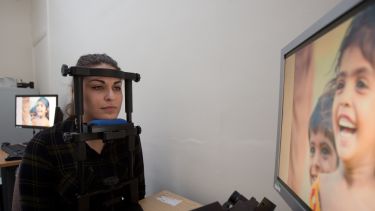 Course description
Cognitive neuroscience relates cognitive and behavioural functions to the underlying brain systems. Computational neuroscience uses data to construct rigorous computational models of brain function. Put them together and these new disciplines are the key to explaining the relationship between brain and behaviour.
You'll develop a broad and critical understanding of these two fields, along with an appreciation of different approaches to understanding brain function. Your range of computational and analytical skills, and an ability to generate and test hypotheses, will give you an excellent foundation for further research.
The course takes students from life sciences, the physical sciences and engineering. Appropriate training is given to ensure all students can master the required skills and complete the course successfully.
Intercalation
We accept medical students who wish to intercalate their studies. Find out more on the Medical School's website.
Modules
Core modules
Fundamentals of Neuroscience
Computational Neuroscience 
Mathematical Modelling and Research Skills
Systems Neuroscience
Computational Neuroscience 2 and Research Project in Cognitive Neuroscience.
Students will also study two modules in either Pathway 1 or Pathway 2:
Pathway 1: Fundamentals of Cognition and Modelling Natural Systems.
Pathway 2: Neuroimaging 1 and Neuroimaging 2.
Teaching
Teaching is through lectures, seminars and laboratory classes.
Assessment
Examinations at the end of semesters one and two, written coursework and an extensive empirical research project over the summer.
Duration
1 year full-time
Doing the MSc in Cognitive and Computational Neuroscience was both challenging and fun. The modules taught during the course really capture the interdisciplinary spirit of the psychology department, with modules in mathematical skills, psychological theories and neuroscience. Learning how a topic can be studied from several approaches and how these can be integrated was something I really enjoyed.

Natalia Favila Vazquez
MSc Cognitive and Computational Neuroscience
Entry requirements
A 2:1 honours degree or equivalent qualification in either a life science or mathematical/physical science.
We also accept medical students who wish to intercalate their studies.
English language requirements
Overall IELTS grade of 6.5 with 6.0 in each component.
You can apply for postgraduate study using our Postgraduate Online Application Form. It's a quick and easy process.
The course information set out here may change before you begin, particularly if you are applying significantly in advance of the start date.