Polymers for Advanced Technologies
Department of Chemistry, Faculty of Science

Learning from our world-leading experts prepares you for a key role in the future of this rapidly developing field.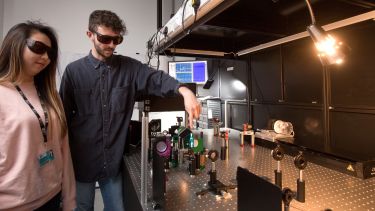 Course description
On this specialist course in polymer science and engineering, you'll learn how polymers are made and behave, how important products like polystyrene are constructed and how to use cutting-edge techniques to create new advanced materials.
You'll study the fundamental science of how polymers are structured and synthesised, and how they behave. You'll also learn about the techniques that chemists use to identify, characterise and analyse polymers. Laboratory training covers a range of polymer synthesis methods and analytical techniques.
Other modules highlight how polymer chemistry overlaps with other areas of science, by focussing on concepts from physics that explain polymers' unique physical properties, and engineering principles to look at the effects that polymer microstructures have on polymer performance.
You'll take part in a research training programme and work on your own research project, which will take up around a third of your course. You'll choose your own topic within polymer science, be assigned an academic supervisor who specialises in your area and work in their laboratory as part of a team of scientists.
Graduates from this course apply their polymer chemistry expertise in lots of different industries – from oils, paints and coatings, to food, cleaning agents and cosmetics, to medical, agricultural and aerospace technologies. This course is also great preparation for a PhD and a career in chemistry research. It's led by the experts behind the Polymer Centre – the UK's largest polymer research network within a single institution, made up of 48 research groups at the University of Sheffield, which has fostered many collaborations with businesses.
Modules
Fundamental Polymer Chemistry

Design and Synthesis of Polymers of Controlled Structure

Polymer Characterization and Analysis

Polymer Materials Science and Engineering

Smart Polymers and Polymeric Materials

The Physics of Polymers

Polymer Laboratory

Research and Presentation Skills

Polymer Research Project
Teaching
We use a mixture of lectures, laboratory practicals, workshops and individual research projects.
Assessment
Assessment of taught modules is through examinations, assessed workshops and coursework. Assessment of the project is through a 15,000-word dissertation and viva.
Duration
1 year full-time
I chose this course because of its popularity among the scientific community worldwide. We can participate in the academics' research during the research project part of our dissertation. I would like to work in research and development in the polymers industry.
Eduardo Hernandez Portugal
MSc Polymers for Advanced Technologies
Entry requirements
You need a 2:1 BSc (Hons) degree in chemistry, chemical physics, chemical engineering, materials or a related subject, or equivalent.
English language requirements
Overall IELTS grade of 6.5 with a minimum of 6.0 in each component, or equivalent.
Recently I've published papers on topics ranging from micro-meteorites in our solar system to hydrogels we can use to store human stem cells. That is why I love polymer chemistry – the diversity of applications is remarkably broad if you have an open mind for both problems and opportunities

Professor Steve Armes FRS
Teaches on Fundamental Polymer Chemistry module.
You can apply for postgraduate study using our Postgraduate Online Application Form. It's a quick and easy process.
The course information set out here may change before you begin, particularly if you are applying significantly in advance of the start date.