Polymers for Advanced Technologies
Department of Chemistry, Faculty of Science

Learning from our world-leading experts prepares you for a key role in the future of this rapidly developing field.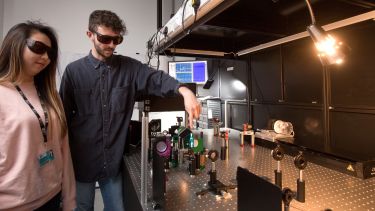 Course description
This course is designed with industry in mind. We have also partnered with Materials Science and Engineering and Physics to encompass the breadth of modern polymer science and technology. You'll become the kind of high-calibre polymer science graduate needed to develop new products and processes in a variety of industries.
Through a combination of theory and practice, we'll teach you about polymer synthesis, physics, characterisation and the latest developments in polymer research. When you design and conduct your own extended research project, you can look in more detail at the areas you're most interested in and learn how to communicate your science to the chemical community.
Your research project
This can be based in an academic group at the University, or in industry. If it's industry- based, the topic is usually suggested by the company you're working with. You may be expected to liaise closely with the company to organise your project.
Modules
Core modules
Fundamental Polymer Chemistry
The Physics of Polymers
Biopolymers and Biomaterials
Polymer Characterisation and Analysis
Research and Presentation Skills and Polymer Laboratory Skills
Extended Research Project
Optional modules
Choose from a range of optional modules. These might include:
Smart Polymers and Polymeric Materials
Polymers with Controlled Structures
Design and Manufacture of Composites
Polymer Fibre Composite Materials
Macromolecules at Interfaces and Structured Organic Films
Electronics and Photonics
Teaching
We use a mixture of lectures, practicals, workshops and individual research projects. The optional modules in the second semester enable you to specialise in two specific areas of polymer science. You can also tailor your research project to your particular interests.
Assessment
For all taught modules, written exams contribute 75 per cent towards your final grade. The other 25 per cent comes from continuous assessment, which might include essays on specialised topics or assessed workshops. You also produce a 15,000-word dissertation based on your research project.
Duration
1 year full-time
I chose this course because of its popularity among the scientific community worldwide. We can participate in the academics' research during the research project part of our dissertation. I would like to work in research and development in the polymers industry.
Eduardo Hernandez Portugal
MSc Polymers for Advanced Technologies
Entry requirements
You need a good honours degree or relevant experience in chemistry, chemical physics, chemical engineering, materials or a related subject.
English language requirements
Overall IELTS grade of 6.5 with a minimum of 6.0 in each component, or equivalent.
Recently I've published papers on topics ranging from micro-meteorites in our solar system to hydrogels we can use to store human stem cells. That is why I love polymer chemistry – the diversity of applications is remarkably broad if you have an open mind for both problems and opportunities

Professor Steve Armes FRS
Teaches on Fundamental Polymer Chemistry module.
You can apply for postgraduate study using our Postgraduate Online Application Form. It's a quick and easy process.
The course information set out here may change before you begin, particularly if you are applying significantly in advance of the start date.