Department of Civil and Structural Engineering, Faculty of Engineering

Civil and structural engineers help to create and protect the world we live in. Driven by teaching and research excellence, we inspire and empower our students to engineer a sustainable future.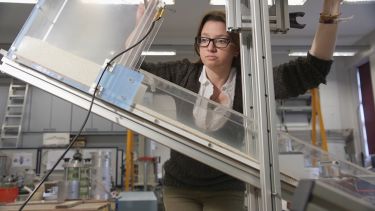 Course description
This course focuses on both concrete and steel structures, providing an ideal grounding for an international career in structural design and construction. You'll develop technical and practical skills in the analysis and design of structures and gain a thorough understanding of their behaviour.
The course approaches design using the latest UK and European codes, giving you the opportunity to discover a range of modern and innovative construction materials and methods. From buildings and bridges, to our water and energy supply systems, flood defences and even blast protection, you'll study the crucial infrastructure that we all depend on, learning how to make it safer, more efficient and more sustainable.
Founded over 100 years ago, our department is equipped with the academic expertise and experience to prepare you for an impactful career.
Accreditation
This degree is accredited as meeting the requirements for Further Learning for a Chartered Engineer (CEng) for candidates who have already acquired a partial CEng accredited undergraduate first degree. See the Joint Board of Moderators website for more details.
Modules
Core modules
Examples of core modules:
Advanced Engineering Research Study
Structural Analysis
Structural Dynamics and Applications to Earthquake Engineering and Vibration
Computational Structural Analysis
Civil Engineering Research Proposal
Structural Design
Optional modules
Examples of optional modules:
Advanced Concrete Design
Design of Earthquake Resistant Structures
Multistorey Steel Building Design
Innovations in Structural Concrete
Blast and Impact Effects on Structures
Geotechnical Design
Structural Analysis and Design for Fire
Earthquake Engineering and Risk Management
Teaching
Lectures by academic staff
Design tutorials
Design projects
Computational tutorials
Lab work
Industrial seminars
Advanced engineering research study (dissertation)
Some modules engage our industrial partners, laboratory work and site visits.
September–June: Taught modules and preparation for your dissertation.
June–August: Complete your dissertation. Your Advanced Engineering Research Study gives you the opportunity to work with an academic on a piece of research in a subdiscipline. We'll give you training in research skills.
Duration
1 year full-time
Entry requirements
Minimum 2:1 honours degree (BEng, MEng, BSc) in civil or structural engineering or other appropriate engineering or science subject.
We'll consider your application if you have appropriate professional qualifications and work experience, but you'll need a strong background in the areas covered on the course.
English language requirements
Overall IELTS grade of 6.5 with a minimum of 6.0 in each component, or equivalent.
You can apply for postgraduate study using our Postgraduate Online Application Form. It's a quick and easy process.
The course information set out here may change before you begin, particularly if you are applying significantly in advance of the start date.