Crossways in Cultural Narratives
School of Languages and Cultures, Faculty of Arts and Humanities

This masters programme is a truly international course: European Union-supported, multilingual, multidisciplinary and taught by a consortium of European and North and South American universities.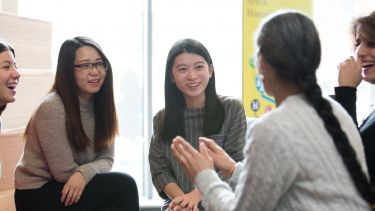 Course description
Our Crossways in Cultural Narratives programme gives you the chance to study either in three European countries, or in two European countries and one other overseas. You'll develop multilingual communicative abilities and experience postgraduate study in multiple overseas contexts.
Literature is the main focus at Sheffield. You'll study literary, discursive and cinematographic texts from the French, Iberian, English, German and Russian cultural arenas in their respective political and social-historical contexts.
You can study up to three of the following disciplines: English, Spanish, French, German and Portuguese. Italian is also available at St Andrews and Bergamo.
Modules
The course is highly flexible – a wide choice of modules enables you to pursue an individual study plan adapted to your professional and academic training. You can also take language-learning modules and an internship option is available.
Participating universities
You'll study at three of the participating universities. They are: 
University of Bergamo (Italy)
University of Sheffield (England)
New University of Lisbon (Portugal)
University of Perpignan (France)
University of Poznan (Poland)
University of St Andrews (Scotland)
University of Santiago de Compostela (Spain)
Eberhard Karls Universitat, Tubingen (Germany)
University of Guelph (Canada)
Universidad Nacional Tres de Febrero UNTREF (Argentina)
University Iberoamericana (Mexico) - Associate University
Universidade Federal do Rio de Janeiro (Brazil) - Associate University
At the end of the degree, you will have a masters from each of the three universities at which you've studied.
How to apply
We're no longer recruiting to this programme. If you have any questions, please contact the department.
Further information regarding visa applications including National Health Service Surcharge and Tuberculosis Screening (TB)
Teaching
Teaching takes place through lectures, seminars, small group work, and one-on-one consultations with staff.
Assessment
You'll be assessed by coursework. 
Duration
2 years full-time
---
Pre-arrival information
Your study offer

You will receive and accept an offer to study ERASMUS-MUNDUS with notification of your financial arrangements from the Crossways Coordination Office at the University of Perpignan. You will also receive a formal offer for the Sheffield portion of your degree from the Admissions Office at the University of Sheffield. You need to react promptly to this offer from Sheffield and record an acceptance of it as instructed. This will need to be done in addition to the acceptance you have sent to Perpignan. Once you have sent Sheffield your acceptance of the offer, you will start to receive information about accommodation, visa requirements and other general information from the University.

Your offer to study at Sheffield will either be 'unconditional' (you have already fulfilled all our requirements) or 'conditional,' where entry requirements will be stated eg completion of your undergraduate degree to a certain minimum level. If asked, you should email this evidence to the University of Sheffield as soon as it is available.

You may also be asked to provide evidence of appropriate English language qualifications at a required minimum level. 

Visas

For non-EU students, you will need a visa to study in the UK. For information regarding visas, visit the University's webpages for Student Visas and Immigration or GOV.uk. 

Alternatively, submit an enquiry about visa applications. 

Confirmation of Acceptance for Studies' (CAS) number

For non-EU students who need or want a Tier 4 Student Visa, when the University has received your acceptance of its offer and whatever evidence it needs of your fulfilment of its conditions, it will issue you with a CAS number by email.

Please note, if you are a one-semester non-EU student on Crossways and decide on a 6-Month Student Visitor Visa, you do not need a CAS number and the University will not give you one. It will you issue with an approval letter instead.

CAS number frequently asked questions 

More information

Further information regarding visa applications including National Health Service Surcharge and Tuberculosis Screening (TB) 
Your career
Graduates go on to a wide range of careers. Some are policy experts, journalists and translators. Many of our students go on to PhD study.
The atmosphere in the School of Languages and Cultures is really vibrant. There are always interesting conferences and talks happening almost every week.
MA Crossways in Cultural Narratives graduate
English language requirements
Fees and funding
Scholarships
The European Union normally awards several European and non-European student scholarships each year to the programme.  You will find more details about scholarships and whether you qualify as a European or non-European applicant on the Mundus masters website. These scholarships are made available to students from all over the world to enable them to undertake study with us. The scholarships are based on academic criteria and are strictly competitive.
Students who are not awarded an EU scholarship are very welcome to join the programme on a self-funding basis.
Both EU and non-EU students may qualify for an Erasmus-Socrates mobility grant during the course.
I honestly can't praise the staff enough. From visa issues to personal matters, I've always been effectively and kindly supported by everyone. Great library resources and the way working spaces are organised and distributed throughout the campus are also worth mentioning.
MA Crossways in Cultural Narratives graduate
We're no longer recruiting to this programme. If you have any questions, please contact the department.
The course information set out here may change before you begin, particularly if you are applying significantly in advance of the start date.