Psychological Research Methods
Department of Psychology, Faculty of Science

Tailor your training to your research interests and career goals, from clinical and cognitive to developmental and social psychology, as you study the lastest techniques from published psychologists.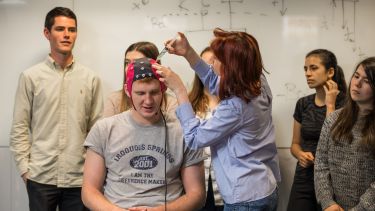 Course description
Study the latest psychology research methods with psychologists who are publishing papers at the forefront of their fields, including clinical trial design, and specialist methods for working with infants, children and clinical populations.
Throughout your course, you'll gain an understanding of ethical issues in research, learn how to write a grant proposal, receive training in multivariate statistics, and develop your presentation skills to take part in our annual student-led summer conference.
The Research Project and Systematic Literature Review course components, which include coverage of meta-analysis, give you the opportunity to focus on a chosen psychological research question under the supervision of one of our world-class researchers. You'll put your new research methods knowledge into practice while addressing an issue at the cutting edge of psychology. You'll also choose a supervisor from an area of psychology that matches your research interests and future career aspirations within cognitive, developmental, social or clinical psychology. It's common for MSc research projects and literature reviews to form the basis of publications in a peer-reviewed journal.
Your career
This course is great preparation for a PhD or the next step towards clinical training. Our graduates have gone on to PhD training in neuroimaging, health psychology and social psychology. Graduates also go on to find roles in:
NHS trusts or other public health organisations, in roles including Assistant Psychologist or Research Assistant.
Charitable and not-for-profit organisations such as the Alzheimer's Society, Mind and Righsteps in roles including Psychology Practitioner or Mental Health Support Worker.
Academia as a psychological researcher or lecturer.
Psychological Research Methods at Sheffield
In addition to Psychological Research Methods, at Sheffield we offer two other specialist masters courses in this area that allow you to specialise further and develop the skills you need for a successful career:
Modules
Core modules
Current Issues in Psychological Research
Research Methods in Psychology
Professional Skills for Psychologists
Intermediate Multivariate Statistics for Psychology
Systematically Reviewing Psychological Research
Research Project
Teaching
You'll learn through small-group teaching in a mixture of seminars, workshops and one-to-one supervision.
Assessment
All assessment is coursework-based.
Duration
1 year full-time
2 years part-time
The MSc was fantastic in giving me skills that would help me become a researcher. I learnt advanced statistics and research methods, gained experience running systematic literature reviews, and even got practice writing grant applications. I continued to specialise in Developmental Psychology and completed my Masters dissertation project on how children learn to flexibly switch their attention. The MSc course was interesting and stimulating.

Dr Emma Blakey
MSc Psychological Research Methods
Now: Lecturer in Developmental Psychology, the University of Sheffield
Entry requirements
A 2:1 honours degree or equivalent in psychology or a related discipline.
Evidence of undergraduate training in statistics for psychology is also required.
English language requirements
Overall IELTS score of 6.5 with 6.0 in the other components, or equivalent.
From my masters thesis onwards, I've researched how children under five learn to talk. This took on a new significance when my son was born. I became aware of how little evidence-based advice there is for promoting language development. I'm now interested in contributing to this advice by focusing on the fundamentals of human language and human learning.
Teaches on: MSc Psychological Research Methods
You can apply for postgraduate study using our Postgraduate Online Application Form. It's a quick and easy process.
The course information set out here may change before you begin, particularly if you are applying significantly in advance of the start date.