2022 start
September
Applied Geographical Information Systems (GIS)
Department of Urban Studies and Planning, Faculty of Social Sciences

Acquire the theoretical knowledge, technical skills and practical experience you need to launch a successful career in the fields of GIS, applied policy research or spatial data analysis.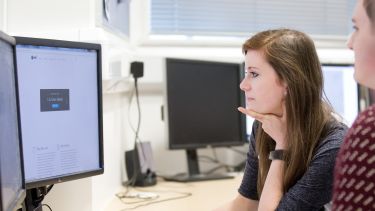 Course description
This course will provide you with the mix of technical skills, practical experience and theoretical understanding you need to launch a successful career in the fields of GIS, applied policy research or spatial data analysis.
You'll develop a wide variety of knowledge in areas such as advanced spatial analysis, geovisualisation, policy applications of GIS in practice, and thematic mapping and cartogram creation.
Facilities and equipment
Our postgraduate study rooms are equipped with the latest industry-standard GIS software and a range of other specialist tools. GIS facilities are available on all 1,500 networked computers across campus.
The department is based in the Geography and Planning Building on the edge of Weston Park.
Modules
The first semester focuses on core skills and knowledge acquisition, whereas in the second semester you'll develop more advanced skills.
You'll put your knowledge and skills into practice when you write a dissertation on a relevant topic that matters to you.
Core modules:
Principles of GIS

This module introduces students to the core principles and skills of GIS. It covers the major sources of data used to study the lived environment and the variety of ways it can be displayed to aid both understanding and analysis. The module has a particular focus on techniques used in the analysis of socio-economic and demographic data and its potential applications. It is taught through a combination of lectures and practical workshops using ArcGIS software.




15 credits

Quantitative Analysis

This module introduces students to powerful and commonly used statistical methods in the social sciences. It assumes no prior statistical knowledge and focuses on the practical research priorities of selecting, conducting and interpreting the most appropriate test with an eye to, rather than an obsession with, the underpinning statistical foundations. The module uses weekly seminar sessions and SPSS practicals to build practical software skills alongside conceptual understanding.

15 credits

Critical Digital Geography in Practice

Digital geographies of GIS, spatial analysis methods and mapping are now widely used in a large variety of academic and professional settings, from urban planning and architecture to health care and social research. This module is focused on helping students understand the critical and conceptual considerations of GIS, cartography, and critical data studies in exploring the relationship between digital and social, political and economic geographies. The module is taught through a combination of case-study-based lectures and seminars.

15 credits

Open Source GIS and Spatial Data Analysis

The availability of software, hardware and data for geographical information systems (GIS) has increased rapidly in recent years. The wide array of new open source GIS applications and a proliferation of spatial open data has created exciting new possibilities for research in the field. This module is therefore focused on developing analysis and visualisation skills using open source software (focusing on QGIS) and in data handling and analysis. Students will learn through a combination of computer workshops and lectures and be exposed to the latest developments in the field. Assessment is by means of a visualisation and data analysis project.

15 credits
Core modules:
Professional Research Design and Project Management

This module is designed to develop a research proposal capable of providing the basis for an AGIS dissertation. It highlights the importance of locating research in an academic field, allows graduate students to enhance their understanding of specialist literatures and gives training in the preparation of higher level research proposals.

15 credits

Advanced GIS Methods

This unit is aimed at students who already have a good degree of knowledge in ArcGIS. The module aims to develop in students a high degree of competence in relation to advanced spatial analysis, understanding spatial approaches to problem solving, and the theories and precepts which underlie software applications in GIS. The module is taught in a series of inter-related computer workshops focusing on real-world data and problem scenarios. The assessment for this module is based on a multiple choice exam and a 2,000 word advanced methods report.

15 credits

The Professional GIS Project

This is a project-based module which aims to set students a real-world professional geographical information systems (GIS) project for an external client using a variety of different spatial datasets and GIS methods. The aim of the module is to prepare students for professional practice in GIS and spatial analysis through a group-work approach which places emphasis on collaboration, team working and objective-setting. This module is taught through a short series of lectures and group seminars. The module is assessed through a combination of an interim report, final report and group presentation.

15 credits
Optional module (15 credits):
One module from available unrestricted modules offered by Geography or Urban Studies and Planning.
Core modules:
Dissertation

The Dissertation-without-Placement module involves a supervised research project, carried out either independently or as an attachment to a wider University of Sheffield  research project. The dissertation is supported by lectures and one-to-one supervision. Students make a detailed analysis of an issue, topic or problem agreed with their dissertation supervisor and attachment mentor (who are often the same person), develop a research proposal, carry out research and produce a Masters dissertation. While most students on the International Development Masters programmes undertake their dissertation while on placement with a development-related organisation, GEO6810 is designed for students who have a particular interest in academic research and/or do not wish to undertake a placement. The module provides valuable experience of academic research and fosters independent research skills.

60 credits
The content of our courses is reviewed annually to make sure it's up-to-date and relevant. Individual modules are occasionally updated or withdrawn. This is in response to discoveries through our world-leading research; funding changes; professional accreditation requirements; student or employer feedback; outcomes of reviews; and variations in staff or student numbers. In the event of any change we'll consult and inform students in good time and take reasonable steps to minimise disruption. We are no longer offering unrestricted module choice. If your course included unrestricted modules, your department will provide a list of modules from their own and other subject areas that you can choose from.
An open day gives you the best opportunity to hear first-hand from our current students and staff about our courses. You'll find out what makes us special.
Teaching
There are lectures, seminars, computer workshops and tutorials.
The course has a strong applied emphasis and draws upon the extensive expertise of teaching staff in the department. This means that in addition to developing strong analytical and technical skills using GIS software, you'll be immersed in the practical applications of GIS software and its potential to solve real world problems.
Assessment
You're assessed on your coursework and a dissertation.
Your career
Graduates go on to work for organisations such as the Office for National Statistics, Ordnance Survey, ESRI, the civil service and local government.
The employability of our graduates is of paramount importance to us. The development of skills, knowledge and personal attributes that enhance your career underpins our programme design. We have a dedicated Employability Manager, Amy Woolley, to support you. We'll prepare you for employment after graduation.
Student profiles
The course was really interesting and engaging. My dissertation was the culmination of all the skills I had learnt, which gave me the confidence I needed to begin my career as a GIS research analyst.

Emma Holgate
MSc Applied GIS
Entry requirements
For UK students, the usual entry requirement is a 2:1 degree or evidence of equivalent achievement (for example, a professional qualification combined with work experience).
Applications are also welcomed from candidates with a 2:2 degree, although evidence of work experience or other activity is generally expected.
Overall IELTS score of 6.5 with a minimum of 6.0 in each component, or equivalent.
You can apply for postgraduate study using our Postgraduate Online Application Form. It's a quick and easy process.
Any supervisors and research areas listed are indicative and may change before the start of the course.
Recognition of professional qualifications: from 1 January 2021, in order to have any UK professional qualifications recognised for work in an EU country across a number of regulated and other professions you need to apply to the host country for recognition. Read information from the UK government and the EU Regulated Professions Database.