2022 start
September
Biodiversity and Conservation
School of Biosciences, Faculty of Science

Develop fundamental knowledge about major conservation issues and their human and environmental drivers, including marine plastics, urbanisation, tropical logging and the balance between sustainable food production and biodiversity.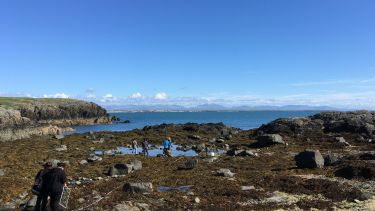 Course description
This MSc course prepares you for a career protecting biodiversity in a range of natural, agricultural and urban ecosystems around the world. Throughout your course, you'll be in the field learning about conservation issues and the constraints posed by budgets, policy and legislation. Through fieldwork – either in the Peak District National Park or further afield – you'll receive training in the principles of experimental design and data collection, equipping you with the key skills to plan and manage your own conservation projects.
You'll develop an understanding of how environmental change can impact biodiversity and how the effective management of ecosystems can positively impact both biodiversity and the ecosystem itself.
You'll conduct an Independent Research Project, spending three months researching an area of biodiversity or conservation that matches your future career aspirations. You could be field-based, lab-based or complete a computational data-driven project, tackling topics such as urbanisation, ecosystem services, tropical deforestation, and marine conservation.
Example research projects include:
How is call type or structure related to site level factors in an endangered parrot?
The Peak District: a study system for biodiversity and management
Effects of increased CO2 on ecosystems
Traits in space and time: mobilising biodiversity data for conservation, macroecology, and macroevolution
Logging in tropical forests: a conservation and ecological study system
Modules
Core modules:
Field Biology

The broad theme of this course is to investigate how landscapes can be sustainably managed to deliver on multiple ecosystem service goals. Students will participate in a range of field visits to representative natural ecosystems or agricultural sites in a location appropriate to their programme, which may include the Sheffield region, the Peak District, or appropriate tropical (e.g. The Gambia) or temperate locations overseas. During these visits they will learn about issues relevant to their programme, which may include the habitats, wildlife, agricultural systems, ecosystem service, and broader human context of the landscape. They will gain experience in a range of appropriate methods for data collection, which may include collection of samples and/or analysis of samples in a laboratory. Applying this knowledge, they will identify a research question in a group, and present this to rest of the course. Students will develop this into a short group field project. They will then use independent research to generate and analyse data and to place it in the context of previous published work from the scientific literature. The module will develop subject-specific knowledge, as well as skills in experimental design, group working, critical thinking, and writing.

15 credits

Global Conservation Issues

This course provides an overview of the principles of conservation biology through lectures which focus on major real-world conservation issues and specific case studies. Critical thinking is encouraged throughout as students are encouraged to understand the complexity of conservation issues behind simple narratives. Students will further develop their skills in accessing, interpreting and synthesising both the primary scientific literature and official 'grey' literature in the field of conservation, as they independently produce a policy briefing on a major conservation issue. , as well as a short, structured non-technical summary of a global conservation issue This will also give them insights into the science-policy interface, and the skills of writing about conservation issues for policy makers, journalists, and the interested general public.

15 credits

Agricultural Ecology in a Changing World

This unit will introduce the concept of agriculture as an ecological system and explore agriculture in the context of global change. Specifically, this unit will consider the value of biodiversity in agricultural ecosystems, the role of ecosystem services in the sustainability of food production and the vulnerabilities of agriculture to a changing climate.

15 credits

Global Sustainability

This course examines the historical, social, cultural and political dimensions of sustainability, focusing on food production and natural resource management on the land and in the oceans. Students will learn how key historical developments led to sustainability issues, how geopolitics perpetuates these in the modern world, and how an understanding of these issues can help us to develop more sustainable ways to live in future. Learning will be achieved through lectures and videos, independent study and classroom discussion sessions.

15 credits

Biodiversity in Space and Time

Biodiversity varies enormously from place to place, from hyperdiverse systems such as tropical rainforests to more species-poor systems in polar regions. The evolution of diversity has also not occurred at a constant rate, with bursts of diversification punctuating periods of more stability. As a result, not all areas are equal, and not all species are too: some represent far more unique evolutionary history than others. This module shows how these large-scale patterns can be studied using the methods of macroecology and macroevolution, and will provide both theory and practical training in how to quantify diversity in space and time.


15 credits

Scientific Skills and Project Management

This module provides training in the skills and approaches necessary to design, manage, conduct, analyse and present research in whole organism biology and environmental science. Generic skills involve designing and planning an effective and reproducible study, making best use of available resources; collecting and managing data to address study aims; conducting research in an ethical manner; and communicating results orally and in writing to different audiences. There are also workshops explaining key aspects of the research process, introducing peer review and describing the science funding landscape. The module also covers advanced principles of experimental design, data interpretation, and graphical presentation, introduced in the statistical computing environment R using a series of workshops and student-centred learning assignments to develop skills and proficiency.

30 credits

Literature Review

The literature review requires the student to write a critical review of a biological topic of choice. The literature review will involve extensive reading of original research papers, reviews and books together with information extracted from other media. The student will be required to critically analyse hypotheses in the field and critically analyse the quality of the evidence used to support them. Where controversies exist the student should be prepared to indicate which side has the stronger case. The literature review should also identify gaps in our current knowledge and understanding and make suggestions for the future developments in the field.

15 credits

Individual Research Project

This module gives students the opportunity to develop to high level skills relevant to a career in research or management. Based on their interests and career aspirations, students will conduct either a laboratory of field-based research project, a computational project, a theoretical modelling project or a systematic literature review. There is the potential to work with external organisations. A common element is the independent production of a piece of research and its presentation, with guidance from an academic supervisor in the department.

60 credits
The content of our courses is reviewed annually to make sure it's up-to-date and relevant. Individual modules are occasionally updated or withdrawn. This is in response to discoveries through our world-leading research; funding changes; professional accreditation requirements; student or employer feedback; outcomes of reviews; and variations in staff or student numbers. In the event of any change we'll consult and inform students in good time and take reasonable steps to minimise disruption. We are no longer offering unrestricted module choice. If your course included unrestricted modules, your department will provide a list of modules from their own and other subject areas that you can choose from.
An open day gives you the best opportunity to hear first-hand from our current students and staff about our courses. You'll find out what makes us special.
Duration
1 year full-time
Teaching
You'll learn through a combination of fieldwork, laboratory classes, lectures, seminars and problem-solving classes.
Assessment
Most assessment is through coursework with some written examinations. Your assessment includes, but is not limited to, essays, extended project reports, policy briefing notes, online statistics exams, oral presentations and written grant proposals.
Your career
With first-hand experience of global conservation issues across animal and plant biodiversity, you'll be well equipped to pursue a range of career opportunities in policy making, research and academia implementing positive change in this area.
Possible career paths include:
working on conservation or sustainability programmes within government
NGOs including environmental bodies or wildlife trusts
the private sector
inspiring the next generation as a university teacher
solving pressing problems through research in higher education.
If you choose to continue your research training, graduates will be well equipped to pursue PhDs in ecology, evolution and conservation and beyond. Doctoral Training Programmes like Adapting to the Challenges of Changing Environment (ACCE) train PhD students in these areas.
Entry requirements
A 2:2 honours degree, or equivalent, in biological sciences or a related subject.
Overall IELTS score of 6.5 with a minimum of 6.0 in each component, or equivalent.
You can apply for postgraduate study using our Postgraduate Online Application Form. It's a quick and easy process.
Any supervisors and research areas listed are indicative and may change before the start of the course.
Recognition of professional qualifications: from 1 January 2021, in order to have any UK professional qualifications recognised for work in an EU country across a number of regulated and other professions you need to apply to the host country for recognition. Read information from the UK government and the EU Regulated Professions Database.