2022 start
September
Drug Discovery Science
Department of Chemistry, Faculty of Science

Find out how scientists discover chemical candidates for new pharmaceuticals. You'll learn how to meet the pharmaceutical industry's increasing demands for drugs that can treat illnesses safely and more effectively, overcome antibiotic resistance, and be produced at a lower financial and environmental cost.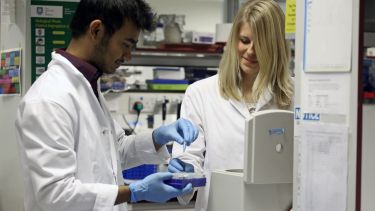 Course description
This course covers the drug discovery and design techniques used in the pharmaceutical industry. You'll study topics such as pharmacology, toxicology and genomics as you learn how target molecules to treat specific diseases are identified, characterised and optimised for potential clinical trials.
Your training will cover the fundamental chemistry and biology of protein interactions, their role in disease and how drugs affect the human body. You'll learn about computer-aided drug design techniques that are used to predict how well a potential drug might work and screening technologies that are used to test a drug's effect on its molecular targets.
The course is taught by world-leading scientists from across chemistry, biology, engineering and medicine and gives you access to state-of-the-art screening and analysis facilities.
Intercalation
We accept medical students who wish to intercalate their studies. Find out more on the Medical School website.
Modules
Core modules:
Drug Design, Pharmacology & Medicinal Chemistry

This module will provide an in-depth discussion of relevant disease mechanisms and strategies that can be used to optimise the pharmacodynamic, pharmacokinetic properties of drugs; and how drugs/analogues can be designed using computer-aided drug design (CADD) software.

30 credits

The Biotech and Pharmaceutical Industry

This practical module will teach students how to perform small molecule and functional genetic screens, focused on human disease. Emphasis will be placed on how to select the right off-the-shelf assay and if one is not available how to build a new assay specific for their study. Students will take part in experimental screens of small molecules and genetic knock-down screens. Examples of screening methods that will be covered include traditional small molecule screens, modern functional genomics and high throughput phenotypic screens. The emphasis will be to appreciate every step that is involved in this process, from laboratory automation to analysis. Finally, the students will collect and handle data from their screens and visualize the results using modern methods.

15 credits

Laboratory Practice and Statistics

The module covers techniques and analytical methods commonly used by most researchers in human molecular biology. Students learn the importance of experimental design and application of statistical methods for power and significance calculations for different types of experiment. In group work, students design a poster to present a set of data. In practical laboratory classes, students are shown how to perform a series of techniques that are frequently used in molecular biology, analyse their data statistically and present results in a formal laboratory notebook.

15 credits

Research and Presentation Skills

This unit aims to introduce students to a range of transferable skills important for successful communication in science, research and in other professional areas. The students will develop a wider understanding of the context in which research takes place through critical reading and evaluation of a wide range of literature. The students will be required to read and assimilate, and will produce a critical report of the literature in a specific research area. In addition, the course will develop oral and poster presentation skills.

15 credits

Drug Discovery Research Project

For this module, students complete an extended and independent research project working as a member of a team to solve a problem at the cutting edge of drug discovery. They receive specialist training to help them develop the advanced practical skills they need for their project, and have access to state-of-the-art equipment and facilities. They also put their previous research training and transferable skills into practice through literature searches, communicating their work and presenting their findings

60 credits
Optional modules - two or three from:
AMR and Current Clinical Practice

In this module we will examine current clinical practice in relation to antimicrobial resistant infection, both in the UK and globally. We will discuss why it is a problem now and the implications for the future. We will describe how resistance arises and compare and contrast different antimicrobial resistant infections. We will study the different aspects of clinical practice, examining case studies and the successful reduction in MRSA cases in the UK. Finally, we will discuss and debate the ethics of antimicrobial stewardship and treatment, and the impact this has clinical practice.

30 credits

Cancer Biology

The unit will provide a description of the nature of genomic complexity as revealed using next generation sequencing technology. It will explore cancer genotypes and phenotypes in the context of 8 essential characteristics that are common to all cancers, and which collectively dictate malignant growth. These characteristics are : self-sufficiency in growth signals, insensitivity to growth-inhibitory signals, evasion of programmed cell death, limitless replicative potential, sustained angiogenesis, tissue invasion/metastasis, avoidance of immune destruction, and de-regulated cellular energetics. It will discuss how genome instability arises, and together with tumour-promoting inflammation, how these enable the emergence of all other cancer characteristics. It will utilize this conceptual framework to discuss recent and future developments in cancer therapeutics. A brief review of fundamental principles in genetics and molecular cell biology will be given. Nevertheless, students should have a basic understanding of genetics, molecular biology and cell biology.

15 credits

Gene Networks: Models and Functions

The module will introduce students to the concepts of interacting molecular networks in biology and how network behaviour of genes may be influenced by external factors and polymorphisms. The main topics will be: Origin of sequence variations, evolution of genes and functions, high-throughput experimental measurement of gene activity, interpretation of large data sets, mathematical modelling of gene functions, in vitro models, animal models, molecular libraries, and translation of resulting discoveries into clinical research.The module will be assessed by coursework based on problem-solving questions requiring independent thinking.

15 credits

Genomic Approaches to Drug Discovery

The unit will be a practical, laboratory based course in which students will learn to culture human embryonic stem (hES) cells and their malignant equivalent, embryonal carcinoma cells. The course will be an intensive two week programme in which students will maintain cultures of hES cells, and carry out experiments to determine the expression of marker antigens and genes used to identify the stem cells and monitor their differentiation. They will learn and apply techniques for genetic manipulation of hES cells, and methods for inducing their differentiation. The practical work will be supplemented by lectures directly linked to specific practical sessions.The module will teach students the basis of small molecule and functional genetic screens, focusing on human disease. Students will learn about the theory and practice of automated small molecule and genetic screens. Examples of screening methods that will be covered include traditional small molecule screens, modern functional genomics and high throughput phenotypic screens. The emphasis will be to appreciate every step that is involved in this process, from automation to analysis. The student will learn how the biotech, academic and pharmaceutical industry use these techniques to identify new candidates for potential therapies. The emphasis throughout will be to appreciate how experimental research can be used to identify candidate target genes for drug discovery and small molecules, reflecting the University´s mission

15 credits

Medicinal Chemistry and Drug Synthesis

This module will provide an overview of how medicinal chemistry emerged, how biological mechanisms of disease are identified, how chemistry is used to target these mechanisms, and how drugs are synthesised.

15 credits

Modelling Protein Interactions

It is frequently necessary to explore how protein products of a gene interacts with other molecules to understand the phenotype produced by a genetic change or phenocopied by drug treatment. In this module, students will acquire the skills to investigate the molecular interactions of protein molecules through advanced molecular graphics and docking software. Topics will include the principles of molecular structure, 3D visualisation, sequence and structure alignments, structure prediction, prediction of function, the analysis of molecular interactions (including protein-protein, protein-nucleic acid and protein-small molecule interactions), predicting the effect of mutation and computer assisted drug design.

15 credits

Neurodevelopment and Behaviour

This course examines the mechanisms that underlie development of the nervous system during embryogenesis. Examples will be described from a variety of model organisms to introduce key steps in the establishment of the CNS and PNS, steps that include neural induction, neural patterning, early segregation of CNS and PNS, the establishment and refinement of connectivity in the nervous system. Recent research from teachers of this course, and from both the classical and current literature is used to analyse and evaluate theories and mechanisms of establishment of the functional nervous system.

15 credits
The content of our courses is reviewed annually to make sure it's up-to-date and relevant. Individual modules are occasionally updated or withdrawn. This is in response to discoveries through our world-leading research; funding changes; professional accreditation requirements; student or employer feedback; outcomes of reviews; and variations in staff or student numbers. In the event of any change we'll consult and inform students in good time and take reasonable steps to minimise disruption. We are no longer offering unrestricted module choice. If your course included unrestricted modules, your department will provide a list of modules from their own and other subject areas that you can choose from.
An open day gives you the best opportunity to hear first-hand from our current students and staff about our courses. You'll find out what makes us special.
Duration
1 year full-time
Teaching
Lectures
Workshops
Laboratory practicals
Individual research projects
Assessment
Examinations
Coursework
Literature review
Dissertation and viva
Your career
Graduates from this course are well trained for roles working on drug discovery in the pharmaceutical industry and graduates from the department regularly find jobs at major pharmaceutical companies such as GSK, Pfizer and AstraZeneca. The course also gives you excellent foundations for a PhD in medicinal science.
You'll have access to expertise and equipment in the state-of-art research facilities and centres, including:
Collaborators
You'll benefit directly from the expertise of our partners in the drug discovery industry. Computer-aided drug design training is provided by LifeArc, a drug discovery company and charity organisation. Schrodinger, a computer-aided drug design software company, provides introductory teaching and software licenses for our students.
Entry requirements
The minimum entry requirement is a 2:1 honours degree, or equivalent, in chemistry, biology, pharmacy or another relevant subject. Applicants with relevant work experience and good academic potential are also encouraged to apply.
Overall IELTS score of 6.5 with a minimum of 6.0 in each component, or equivalent.
You can apply for postgraduate study using our Postgraduate Online Application Form. It's a quick and easy process.
Any supervisors and research areas listed are indicative and may change before the start of the course.
Recognition of professional qualifications: from 1 January 2021, in order to have any UK professional qualifications recognised for work in an EU country across a number of regulated and other professions you need to apply to the host country for recognition. Read information from the UK government and the EU Regulated Professions Database.