2022 start
September
Global Journalism
Department of Journalism Studies, Faculty of Social Sciences

Our students see journalism's bigger picture: freedom of expression, 'fake news', media ethics and globalisation, as well as digital reporting techniques. That's why they become great journalists, communications experts and media researchers.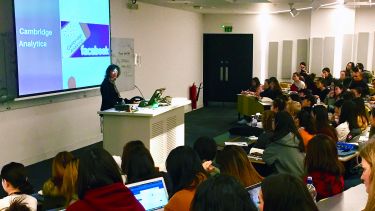 Course description
This far-reaching journalism degree combines research on media practice and freedom around the world with some practical newswriting experience and events. Join up and you'll look at journalism within the context of globalisation, comparing and contrasting media practice around the world, immersed in vital discussions around the relationship between media, society and government – at a hugely critical moment for freedom of expression. Our annual International Journalism Week is a focal point, with high-level discussions led by media professionals, researchers and campaigners from around the world.
Modules
Core modules:
Global Journalism: Digital Journalism for a Global Society

This year-long module aims to give students a profound understanding of journalism in the digital era and in a global context.


30 credits

Global Journalism: Writing for the media

The purpose of this module is to introduce students to the theories and practice of writing for the media and to some of the practical reporting methods used by journalists. This module will introduce students to the knowledge, insights and skills required by journalists and communicators. Students will be introduced to systematic research techniques that will help them to use a range of resources including the intranet and library archives. They will also be taught how to liaise with people effectively to get the information that journalists need for their stories.

15 credits

Global Journalism: Research Portfolio

You will prepare and execute a substantial piece of work, in the form of a research portfolio, including a reflection, a journal article and an outward-facing resource, that analyses an issue in journalism. You will learn and apply knowledge regarding the use, dissemination and application of research, its potential impact, and how to target audiences and how to reflect on the challenges faced by researchers. You will be able to make an informed choice about the nature of your project in relation to your own strengths, weaknesses and ambitions.

75 credits

Global Journalism: Journalism in Britain

Students will learn about the historical development and current debates in the news media in the UK and also the evolution of the related field of Journalism Studies. It will introduce themes which may be of interest in encouraging students to think of MA dissertation proposals later in the semester.

15 credits

Global Journalism: Media freedom: European, UK and US perspectives

The overall aim of this module is to develop an understanding of the international treaties and national laws safeguarding the exercise of freedom of expression by the media, the different interpretations of this freedom in Europe and the US, and the limitations to which it is subject. In particular, it aims to facilitate students in developing knowledge of topics including the protection of freedom of expression in the European Convention of Human Rights, the Human Rights Act and the First Amendment; the tensions between media freedom, hate speech and privacy; media freedom and political expression; the contrasting models of press freedom and broadcasting regulation; the debate on internet freedom or regulation. The module seeks to expose students to European, UK and US laws, as well as to other jurisdictions where comparative analysis is appropriate.

15 credits

Global Journalism: Reforming Journalism in a Global Environment

In this module, students will explore efforts made over the years to ensure high quality journalism. They will engage in critical analyses of theories and perspectives relating to high quality in a democratic society. They will be introduced to the activities of media reform campaigners. They will have an opportunity to develop their own media reform project and/or participate in an existing one.

15 credits

Global Journalism: Journalism, Globalization and Development

This module examines the relationship between journalism and the main challenges of globalisation and development. It analyses the place of journalism in the globally interconnected, and yet divided world. Through the discussion of key theoretical concepts and specific examples of media narratives from different parts of the world, the module explores ways in which media can assist people and communities to meet wellbeing challenges, and critically assesses why global media represent globalisation and development issues in a certain manner. The module will study media representations of the North/South divide; coverage of humanitarian crises and major global issues; the relationship between journalism and political imagining of distant others; and the potential of new media technologies to facilitate activism and social change.

15 credits
The content of our courses is reviewed annually to make sure it's up-to-date and relevant. Individual modules are occasionally updated or withdrawn. This is in response to discoveries through our world-leading research; funding changes; professional accreditation requirements; student or employer feedback; outcomes of reviews; and variations in staff or student numbers. In the event of any change we'll consult and inform students in good time and take reasonable steps to minimise disruption. We are no longer offering unrestricted module choice. If your course included unrestricted modules, your department will provide a list of modules from their own and other subject areas that you can choose from.
An open day gives you the best opportunity to hear first-hand from our current students and staff about our courses. You'll find out what makes us special.
Duration
1 year full-time
Teaching
We teach through lectures, seminars, workshops and research exercises.
Assessment
You're assessed by essays, examinations, presentations and a research portfolio.
Entry requirements
You must have one of the following:
A 2:1 undergraduate degree (we will consider a 2:2 if we are sufficiently impressed by your potential)
An alternative qualification approved by the University as degree equivalent
Substantial previous work experience in a media-related role
Overall IELTS score of 6.5 with a minimum of 6.0 in each component, or equivalent.
Fees and funding
There are a number of bursaries for students on the journalism, magazine and broadcast courses, from the Scott Trust (owner of The Guardian), Journalism Diversity Fund and others.
We use a staged admissions process to assess applications for this course. You'll still apply for this course in the usual way, using our Postgraduate Online Application Form.
Any supervisors and research areas listed are indicative and may change before the start of the course.
Recognition of professional qualifications: from 1 January 2021, in order to have any UK professional qualifications recognised for work in an EU country across a number of regulated and other professions you need to apply to the host country for recognition. Read information from the UK government and the EU Regulated Professions Database.