2022 start
September
International Public and Political Communication
Department of Journalism Studies, Faculty of Social Sciences

Become an expert in media relations, political marketing and how organisations shape their messages to persuade, inform and sometimes mislead. Sharpen your knowledge by designing a campaign of your own.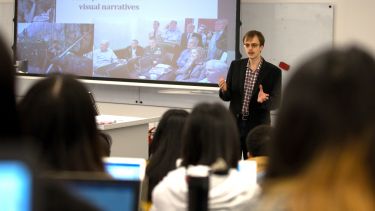 Course description
Messages and viewpoints are all around us at all times. Political parties, public and governmental institutions, pressure groups, charities and NGOs shape messages in particular ways, advocating viewpoints and constructing campaigns to influence public opinion, specific audiences and policymakers. Our course teaches you to be an expert in both the analysis and development of such messages.
You'll learn about media relations, political marketing and the scope and significance of political communication. You'll develop skills in communicating with the media (including media training) and using different media outlets to promote ideas through advocacy and lobbying. Our teaching offers a deep and critical understanding of key debates around the intersection of the media and public and political communication internationally.
We teach a deep critical understanding of key debates around the intersection of the media and public and political communication internationally. So this degree is a good route into PhD study as well as a solid foundation for careers in lobbying, journalism, public relations and more.
Modules
Core modules:
Research Methods

This module is designed as an introduction to social scientific research methods as applied in the communications, media and journalism fields. The module provides an overview of key research methods, and the different ways in which research can be conducted. Topics covered include surveys, questionnaire design, focus groups, interviewing, ethnography, content analysis, discourse analysis and different aspects of information search, reserach design, project management and research presentation. The module is designed to make students aware of basic skills in these social science research methods and to equip them to conduct small scale projects on their own, or in groups.

15 credits

Communication in Peacebuilding

Civil wars are the deadliest form of conflict in the contemporary world. In the 1990s 90% of those killed in wars were civilians (Paris 2004). Currently, 43-50% of post-civil war societies return to war within five years. No matter what the causes (economic, political, social, ethnic…) of a civil war ultimately violence occurs when there is a breakdown of communication. Without a communicative basis it is impossible to (re-)build civil society and achieve self-sustainable peace. This module analyses the communicative architecture of peace and explores how it can be re-build through hybrid communication. By hybrid is meant communication that spans across both representational (verbal) and non-representational (non-verbal) communication and reflects the range of means of communication within societies. Students will engage with the role and importance of communication for civil society and peacebuilding.

15 credits

Introduction to Political Communication

The module seeks to explore a range of ideas and issues within the very broad area of political communication. It starts with a basic introduction to the field and then moves on to look at key issues that feature in the discussion of politics, journalism and communication, and the intersection of these three fields of study. The module will also seek to explore how we should look at the field of political communication at a time when traditional media (newspapers) are in relative decline and different forms of communication (Twitter, Facebook, WeChat) exist in abundance. The discussion will take in comparative, global and historical contexts.

15 credits

Media, Society and International Crises

This module examines the relationship between media, political bodies, NGOs, and wider societal actors at the outbreak of international crises. It looks into particular cases of recent international crises and early reportage, questions the emerging media and political representations, and evaluates them in light of theories of perception, identity, and reactions to uncertainty. In this module students will conduct a research project into the early media coverage of a crises, interview journalists, participate in a modelling exercise of political, public and media reactions to an international crisis and relate early coverage to later narratives found in media and film.

15 credits

Soft Power and Public Diplomacy

This module offers a comprehensive review of public diplomacy and its broader field of soft power statecraft. As such, it provides students at post-graduate level with a compilation of approaches to, and studies of varying perspectives on the practice of public diplomacy. The module provides insights into international debates, draws on an emerging body of knowledge as well as societal trends impacting the field and the practice of public diplomacy. Focusing on the meta-theoretical, philosophical, and applied aspects of public diplomacy, the module will cover: conceptual foundations of public diplomacy; institutional and organisational dimensions of public diplomacy; implementation of public diplomacy; domains of practice in public diplomacy.

30 credits

Communicating with the Media

This module will provide students with knowledge and skills necessary to communicate messages through the media. Case studies and practical workshops will allow students to learn about the practice of media communication. They will learn how the media operates and how to communicate messages through interviews, press conferences and news releases. Topics covered in the module will include the development of communication strategies, the understanding of news values and news cycles and strategies for successful and ethical communication.

15 credits

International visual public and political communication

This module will introduce students to key conceptual/methodological debates concerning the role, function and impact of images and visual representations within contemporary forms of public and political communication. Focusing on a variety of communication, media and journalism-based media and contexts (i.e photojournalistic coverage of war/conflict/terrorism, the role of images within political campaigns, public communication, political cartoons, visual representations of minority groups, etc.), and actors (e.g. politicians, NGOs, marketing and PR professionals, terrorist organisations, protest movements, etc), the module will to equip students with the critical and analytical skills for interrogating dominant modes and methods of visual public and political communication.

15 credits

Dissertation (International Public and Political Communication)

This module will require students to conduct their own research project utilising some of the methods they will have learnt in JNL6210 Research Methods which runs in the autumn semester and is compulsory for all students. Students will be asked to analyse a public or political communication campaign of their choice. Such analysis includes all elements of a campaign including the political marketing material. Students are required to submit a dissertation of not less than 12,000 words and not more than 15,000 words in length.

60 credits
The content of our courses is reviewed annually to make sure it's up-to-date and relevant. Individual modules are occasionally updated or withdrawn. This is in response to discoveries through our world-leading research; funding changes; professional accreditation requirements; student or employer feedback; outcomes of reviews; and variations in staff or student numbers. In the event of any change we'll consult and inform students in good time and take reasonable steps to minimise disruption. We are no longer offering unrestricted module choice. If your course included unrestricted modules, your department will provide a list of modules from their own and other subject areas that you can choose from.
An open day gives you the best opportunity to hear first-hand from our current students and staff about our courses. You'll find out what makes us special.
Duration
1 year full-time
Teaching
We teach through lectures, seminars, workshops and research exercises.
Assessment
You're assessed by essays, examinations and a dissertation.
Student profiles
Anyone who studies in Sheffield will be assured of the following: the best student experience in the UK; resourceful tutors; workshops and seminars to give you practical experiences; being fully equipped for the job market; a network of friends from all over the world; and the satisfaction of having a very useful degree. Plus, Sheffield is a lovely, calm city with lots of get-away destinations that gives me the best study environment.

Laila Abubakari
MA International Political Communication
Entry requirements
You must have one of the following:
A 2:1 undergraduate degree (we will consider a 2:2 if we are sufficiently impressed by your potential).
An alternative qualification approved by the University as degree equivalent.
Substantial previous work experience in a media-related role.
Overall IELTS score of 6.5 with a minimum of 6.0 in each component, or equivalent.
We use a staged admissions process to assess applications for this course. You'll still apply for this course in the usual way, using our Postgraduate Online Application Form.
Any supervisors and research areas listed are indicative and may change before the start of the course.
Recognition of professional qualifications: from 1 January 2021, in order to have any UK professional qualifications recognised for work in an EU country across a number of regulated and other professions you need to apply to the host country for recognition. Read information from the UK government and the EU Regulated Professions Database.